My SBI Website Stats
4-The-Love-Of-Jeeps.com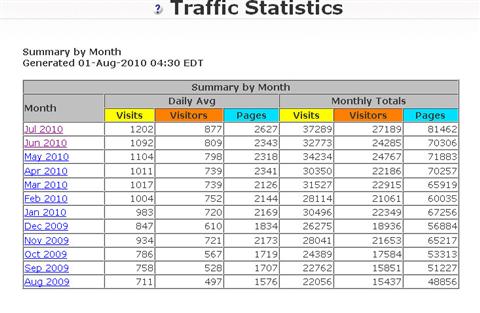 Looking at the top right portion of the graph you can see the monthly totals for July 2010. I think the 2 most significant pieces of data are the "Pages" (number of pages viewed by visitors for the month)...and the total number of "Visitors" for the month.
81,462 Page Views for July '10
27,189 Visitors for July '10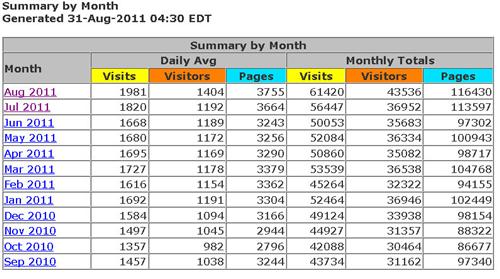 Notice the increase in total number of "Pages" viewed, and the number of total "Visitors" for the month ending August 2011.
116,430 Page Views for August '11
43,536 Visitors for August '11



Update Note: The year 2011 ended with the following totals:
Total Page Views = 1,309,260
Total Unique Visitors = 467,182
Total Visits = 664,563
More proof that Solo Build It! delivers to help make your website a success. Please click on the "Powered By Solo Build It! link below to learn more.
Thanks,
Larry H. Morton
Owner, www.4-The-Love-of-Jeeps.com