My Website Update and Progress Report!!

Purpose: My Website Update and growth report is for those who may be interested in some of the behind the scenes processes for what goes into making a successful website, and to openly thank all of you who have participated one way or another in this website's expansion.
Whew! It's been a few years and several updates since I first wrote "About Me" and how I started this website. I have poured a lot of time and effort into content to provide a comprehensive look at Jeeps from many different angles.
I genuinely hope this site is providing everyone who visits here entertainment, information and some plain old fun.
It's one thing to make claims that a product or program is the "best" or the "hottest"...and if you read the "About Me" page you know how much I believe in the program that got me started, and continues to guide me toward success both financially and personally.
However, now I actually have the clear statistics to show you how a computer "newbie" like me could build a website with constantly growing traffic..and a steady but growing income as well. Any business online or brick and mortar (off line) relies heavily on steady traffic to their place of business. The more traffic a business has...the more potential for growth and prosperity.
Well, the screen-shot below shows the number of "Visits", "Visitors" and "Page Views" for my website over a 12 month period. If this makes little or no sense remember one thing...these stats refer to traffic growth...and that means a growing degree of success with the website.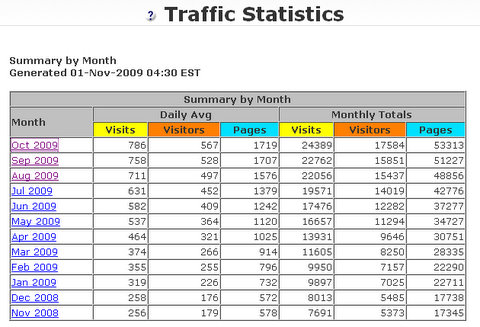 Notice the over 17,000 visitors, and over 53,000 page views in one month (Oct. '09). Look back on this chart to one year prior (Nov. '08) and you will see that the growth in all three areas has more than tripled. I am not boasting about this, and although I am quite happy with it...I am truly humbled.

UPDATE ! !...To See More Current Expansion of My Website Traffic Stats Thru August 2011, plus End of Year 2011 totals...Click Now!

The simple point here is that I honestly could not have achieved these stats on my own. All I had initially going into building this website was Passion.
Now, I have a successfully expanding website thanks so much to all of you who choose to visit 4 The Love Of Jeeps.com and the online company that provided me the tools to build the site.
Building a successful website is not easy and requires commitment and hard work. However, anything worth doing requires some sacrifice and dedication. The pay-off is in the satisfaction of having something to show for your hard work...and actually making an income online.
I am now one of a relative few who is truly making a modest income online...which is growing daily along with my traffic.
Do you have a passion about something that you want to share with the rest of the world? Since I made my decision to express my passion...I have never looked back.
Find out if you have what it takes to build, own and run your own business on the internet.
All the best,
Larry
My Website Update (4 The Love Of Jeeps.com)


(Return to Top of Page..My Website Update)
Home|About|Site Map|Contact Me|What's New?|Disclaimer
MY WEBSITE UPDATE