Thanks for Purchasing: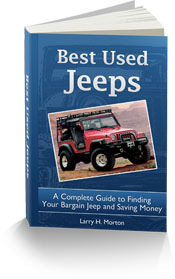 (YOUR DISCOUNTED PRICE HAS BEEN INCLUDED)


Please Note: Your credit card or bank statement will show a charge by ClickBank or CLKBANK*COM, rather than a reference to your specific product (will not show "Best Used Jeeps" in your billing statement).
Instructions for Downloading Your Copy of "Best Used Jeeps":
1) You must first have a "PDF Reader" installed on your computer. If you don't, or you are not sure, you can download Adobe Reader for free...and then afterward return here.
2) Once you have your PDF Reader installed you simply click Best Used Jeeps to download your exclusive copy.
I sincerely hope you enjoy reading Best Used Jeeps as much as I did writing it.
Your feedback is always welcomed.
You may Contact Me here at AssistEbookFriends@4-The-Love-of-Jeeps.com anytime for assistance if needed!
Thanks again,
Larry