Hi ,



Well, Spring is beginning to feel a whole lot like Summer here in the Lone Star State of Texas.

We have had 90 to 98 degrees (Farenheit) for much of the past two weeks...and very little rain. But I still prefer warm...and even hot weather instead of cold temps any day.


This past Memorial Day weekend I had an opportunity to take the old girl (Comanche MJ) out off roadin'. My brother-in-law called and said he had recently gotten a 2004 Wrangler TJ...RUBICON, and wanted to take it out on its maiden voyage to some local trails.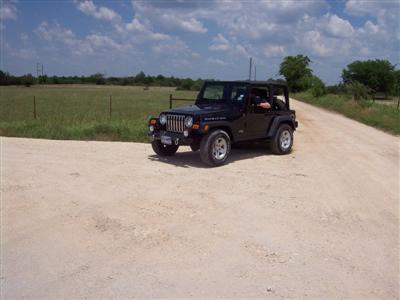 Ironically, I had just recently put new shocks, steering stabilizer and tires on my '87 Comanche when Andrew called.

I wasn't sure if the old, very original MJ could keep up with a Rubicon Wrangler, but I was sure anxious to find out...so off we went with our wives in tow. And no, we didn't "tow" our wives behind the Jeeps...it's just an expression.

So, the challenge was on...well, actually there was no real challenge. I guess that was only in my head, but it was fun to see how the Comanche would stack-up alongside the famous TJ Rubicon.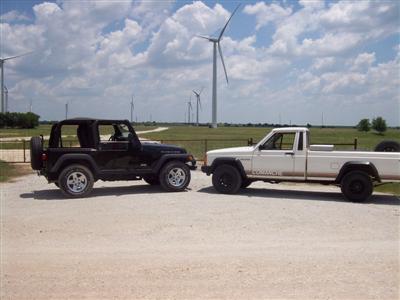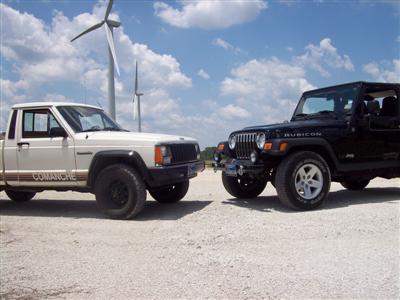 The giant windmills outside of St. Jo, Texas (in the background) were awesome and the countryside was beautiful.

My Comanche got stuck in a washout, mostly because of the long-wheelbase, and poor rear overhang which commenced to get "hung-up" (see photo belows)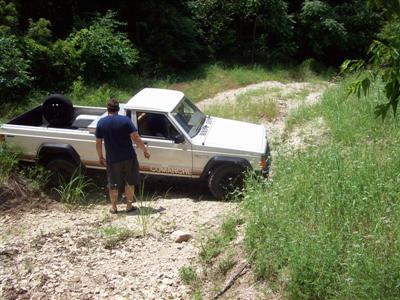 Great driving (conceited, I know) and spotting got me out of that mess. If I had it to do over again, I would have picked a better line of entry, but hindsight is...well...you know...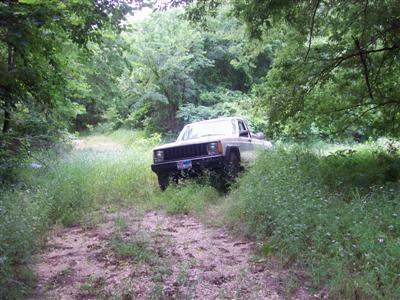 Andrew's Ruby performed flawlessly as would be expected. However, when we drove up to the trails at Lake Murray, just outside of Marietta, Oklahoma, his Rubicon Jeep met it's match in a deep mud pool with even deeper hidden tire tracks and steep incline going in and coming out.

After a couple of unsuccessful tries and up to his bumpers in wet mud, Andrew finally locked both axles and powered out of that pit. It was awesome...so much so I didn't get a picture of it...dang! Well, you can see some of the mud from that pit in the photo below.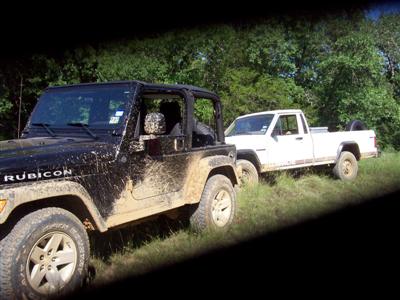 Needless to say the Comanche sat that one out...but was on stand-by to pull the Ruby out if needed.

Nevertheless, I was immensely proud of my aging truck, because other than the devil's mud pit (my name for it) the little MJ stayed right on the Rubicon's footprint almost all the way.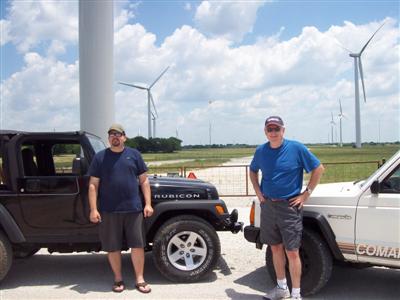 Our next trip we plan to invite other 4x4 owning family members. Just haven't decided where we're going yet...

So, until next time remember...you don't have to tear it up to have a good time!

Jeep Safely!

Larry


***P.S. Don't forget to get your Jeep photo and story...new, used, beater, project or any other condition...on the Love of Jeeps website by submitting yours here: Your Jeep Page...and I will consider it for the website.

Let me know what you think about anything Jeep related by contacting me anytime.

***P.S.S. Don't miss anything new on the 4 The Love Of Jeeps website by subscribing to the RSS and Jeeps Blog feed here: RSS/Jeeps Blog



---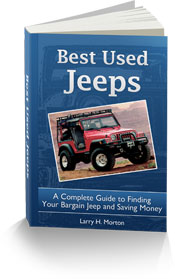 Covering Nearly Every Jeep Found In The Used Marketplace, This Easy To Follow Guide Gives Readers The Skills To Locate And Negotiate The Purchase Of A Used Jeep Of Their Dreams.

No Bull Solid Info For Jeep 'newbies' And 'veterans' Alike!
Best Used Jeeps Guide...More Info!










---
Times are tough. Build a business the right way online. This is the real thing.

I use it to build my website, and I am so convinced that I invite you to Contact Me and I will tell you anything you want to know..with no hype....Larry