Hi ,




Readers Jeeps of the Month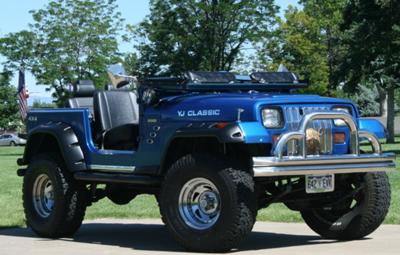 Prem's nicely built 1994 Wrangler YJ..Click Photo for More Info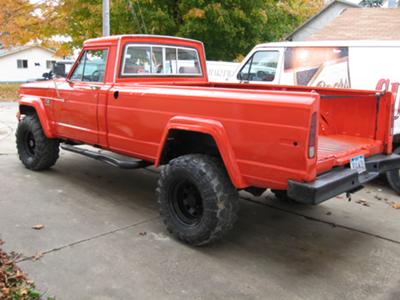 J.G.'s tough looking 1975 Jeep J20 Pickup..Click Photo to See More Info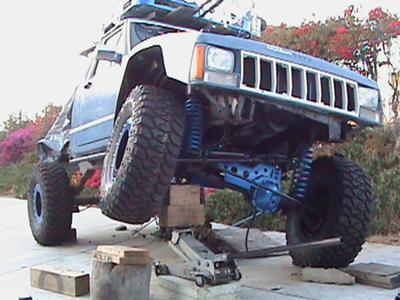 Carlos' 1988 Jeep Comanche MJ Project...Click the Photo for More Info


Fall is here in full force. Winter is closing in, but for the meantime the weather here in Texas is fantastic.

It's in the mid 70's with clear skies in the daytime, and in the mid 40's at night. Makes cruisin' the Jeep all the more fun and pleasant.

The '87 Comanche is up for inspection this month and will probably need new tires. In keeping the old girl as near stock and original as possible, the tallest tire size recommended (without mods) is the 235/75/15. I would like to go to the 30x9.50x15 or even the 31's but I don't want to alter anything on this truck at the moment (including cutting the fenders).

I will save any mods for the used Wrangler, which I am still searching for the best buy. I've been watching the used Jeep market for quite some time now and believe the best bargains can be found during the depths of Winter and just before Spring.

Have you noticed this pattern as well? Let me know if you have, and whether or not this is a regional thing or pretty constant throughout the country (or other countries as well). Contact Me!

Also, let me know what you have found to be your best methods for finding good deals on used (oh...excuse me..."pre-owned") Jeeps.



WHAT'S NEW at 4-THE-LOVE-OF-JEEPS HEADQUARTERS?


One question I get asked most often is "how can I get the best performance and efficiency from my Jeep?"

Well, being someone who hates to put up a lot of cash for anything that is unnecessary, or a budget breaker, I came up with the least expensive add-ons, and tips for getting the best zip and sip from your Jeep possible.

Although the initial outlay on some of these items can be pricey, I believe that with them you'll get the most bang for your buck.

1) Engines need to breathe freely to run at their best. Using a less restrictive air filter , or investing in a cold air intake system will give your engine the breath of fresh air it needs.

2) As important as air entering your engine is, the same is true for exhaust air leaving your engine. A less restrictive muffler and tuned exhaust headers will reduce back pressure and increase engine efficiency, power and torque.

3) Keeping up simple maintenance is the single easiest and cheapest way to get the best from your Jeep's performance. Fresh spark plugs, ignition wires, air filter, regular oil changes and lube jobs will do wonders for fuel efficiency as well.

4) Bigger tires mean more rolling resistance, which in turn means less overall performance. I know the prevailing hype is for big, tall tires (the bigger the better, right?)...but that is not always necessary...at least not for most Jeep owners. I would suggest using the tire size that best allows you to do what you want and need to do with your Jeep. Less tire = more efficiency from your motor.

5) And finally...getting the most performance and efficiency from your Jeep comes from you the owner/driver. No vehicle is indestructible. You are the ultimate determiner of how your Jeep runs and lasts.

Too costly? Well, Christmas is coming up soon...so start making your list.

Don't forget to share this newsletter with your friends and family, and encourage anyone you know to send in their Jeep photo and story at one of the invitation pages listed here:

Submit Your Jeep Here

Just click on the link that best describes your ride (or interest) and then follow the simple instructions.

And don't miss anything new on 4 The Love Of Jeeps website by subscribing to the RSS and Jeeps Blog feed here:

RSS/Jeeps Blog..subcribe here

Thanks for all of your support and until next time remember to...keep the right side up..not the upside down!

Larry




Times are tough. Build a business the right way online. This is the real thing. I use it to build my website, and I am so convinced that I invite you to Contact Me and I will tell you anything you want to know..with no bull....Larry