Hi ,



Well, it looks like Spring is just around the corner, and it is time to start getting our Jeeps ready for some fine top down, doors off, warm weather cruising off road and on.

Just 2 weeks ago the temps here in North Central Texas were at record lows of just above zero (Fahrenheit)...and today it was nearly 80 degrees. Go figure!

I'm not complaining by any stretch...so let's get rolling with:




Readers Jeeps of the Month
(Find Out How to Show off Your Jeep! It's Easy!)


Jay's '97 TJ in the UK...(click photo for more!)



Lewis' 1959 CJ5 V6...(click photo for more!)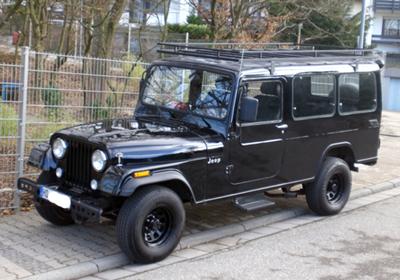 GNR 1989 Korando Jeep Overlander...(click photo for more!)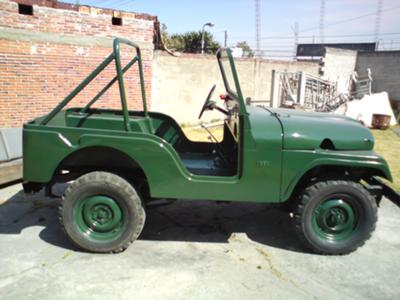 Armando asks if his is a CJ4...(click photo for more!)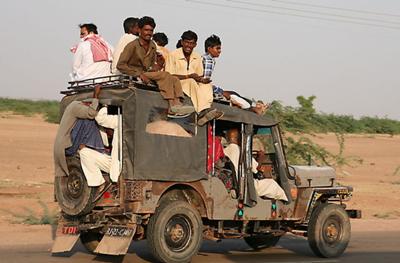 Mahindra Jeeps are highly valued in India...(click photo for more!)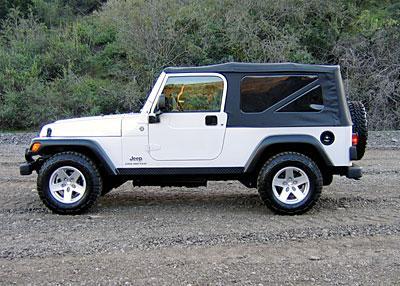 Marcos' 2006 Wrangler Unlimited LJ...(click photo for more!)




Jeep Tips of the Month
...Jack of All Trades!


What is the best type of jack to use on my Jeep? Well, the answer depends upon several factors like:


which specific Jeep you have...such as a Wrangler will usually require a different type of jack than a Liberty, Patriot or Compass.


how you plan to use your Jeep...such as off road vs. on pavement.


how much lift (suspension, body and tall tires) you may have on your Jeep beyond the factory ground clearance.


The factory jack that originally came with your Jeep is usually pretty lame, but can be made to work in most cases. It is usually some form of "scissor" jack with a manual crank, electric or hydraulic lift. (Click for Examples)

This type of jack presents the greatest limitation in the actual height it can lift a vehicle. Often times the scissor style jack alone will not lift the Jeep's tire off the ground enough to change a flat...especially in rough terrain or with a lifted rig.

I personally carry several short flat pieces of lumber including 2x4, 1x6 and 4x4 sizes to stack up under the jack to increase its lifting capacity. Just make sure that the stack is steady and stable before operating the jack...and never trust any jack (alone) enough to crawl under a suspended vehicle.

Floor jacks and bottle jacks work well on flat concrete surfaces, but are usually bulky and heavy...and best used in the comfort of your garage.

That brings us to the jack often referred to as the "Hi-Lift" jack, which by the way is a brand name for this type of jack, even though other jacks (brands) are mistakenly referred to by this name.

This style of jack is not new. It has been around almost as long as the automobile.

Originally called a "bumper jack" used on cars, the heavy duty versions were called "farm jacks" obviously used with farm equipment.

Click for some samples of Hi-Lift jacks and other similar style jacks and accessories.

Although the Hi-Lift or Farm Jack can also be bulky and heavy, Jeep owners and some manufacturers have come up with creative ways to mount these jacks on Jeeps.

So, what is the best jack for Jeeps? The answer is...whichever type of jack that can get the job done with the least amount of hassle, is well constructed and most of all safe.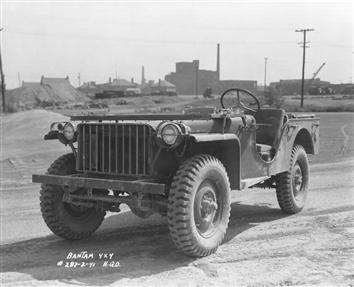 Jeep Trivia: In 1939, the U.S. military invited 135 companies to submit designs for a universal military vehicle. Only Ford, Willys-Overland, and American Bantam did.

So until next time take note, if while driving your Jeep the blood is suddenly rushing to your head...something did not go well!

Larry




Get your Jeep's repair manual or a fun Jeep book...the cheapest Jeep book deals are at Jeep Books Plus.



***Please Remember Our Service Men and Women in Your Prayers! You Can Help Support the Troops in Many Ways. Here are several Military Support Websites.***




***P.S. Don't forget to get your Jeep photo and story...new, used, beater, project or any other condition...on the Love of Jeeps website by submitting yours here: Your Jeep Page...and I will consider it for the website.

Let me know what you think about anything Jeep related by contacting me anytime.

***P.S.S. Don't miss anything new on the 4 The Love Of Jeeps website by subscribing to the RSS and Jeeps Blog feed here: RSS/Jeeps Blog



---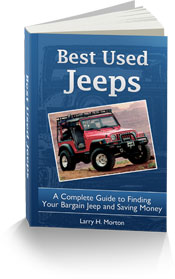 Simple to Download Ebook Covers Nearly Every Jeep Found In The Used Marketplace. The Easy To Follow Guide Will Give You The Ability To Know The Differences, Good and Bad, Between Jeeps of Almost Every Model and Year.

No Bull Solid Info For Jeep 'newbies' And 'veterans' Alike!

***Hurry! Special Low Price for Newsletter Subscribers (over 33% lower than the already LOW sales price)***

Best Used Jeeps Guide...More Info!










---
Times are tough. Build a business the right way online. This is the real thing.

I use it to build my website, and I am so convinced that I invite you to Contact Me and I will tell you anything you want to know..with no hype....Larry