Un CJ-4 (A CJ-4?)
by Armando Rodríguez
(bambupue@yahoo.com)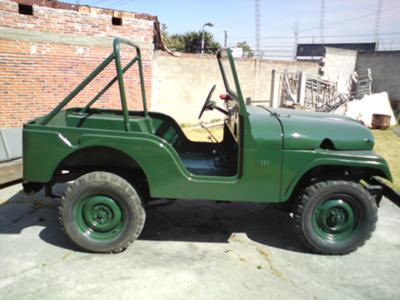 Un día lluvioso con neblina en la parte más alejada de la Sierra de Cuetzalan Puebla México en una aventura con mi novia crucé por una vereda con un Jeep cargado con una tonelada de grano de pimienta. Me costó trabajo comprarlo ya que no lo quería vender el viejito. Cuando vi la factura CJ4 del año 1955 se lo compré.

¿Mentirá la factura? Lo estoy reparando, espero sus comentarios, envío fotos.


Larry's Comment and rough translation to English:

"A rainy day with fog in the far side of the Sierra de Puebla Mexico Cuetzalan on an adventure with my girlfriend came across a trail with a Jeep loaded with a ton of peppercorn. I had trouble buying it because they did not want to sell the old man. When I saw the bill in 1955 CJ4 I bought.

Lie the bill? I'm repairing, I welcome your comments, send photos."

Armando...the ID plate number you marked is the "engine" serial number only. The actual serial number is above this one which reads "Modelo o Serie No. 57548-25527M" which indicates you have a CJ5 (not a CJ4).

Your ID plate also specifically says "Willys..ano 1955". Still a nice Jeep to rebuild.