Hi ,



I hope your Independence Day was peaceful, fun and full of gratitude for the freedoms we enjoy in the USA.

Welcome to the Dog Days of Summer. I know my 3 dogs aren't enjoying this daily 100+ degree weather...with no rain in sight. They're panting harder than a Sumo Wrestler on a treadmill.

Well a little hot weather never stopped us diehard Jeep Lovers before and it won't stop us now. For the past several weeks I have been prepping the '95 Wrangler for a July 4th family on road/off road day trip to North Texas and Southern Oklahoma.

We left early Monday morning in our caravan of 3 Wranglers, a Toyota FJ Cruiser and a Toyota Prius chase car. We had a lot of fun and camaraderie with no breakdowns and lots of trash talk on the CB radios. I will talk more about this trip another time, but the photo below shows the entire group up on "windmill hill".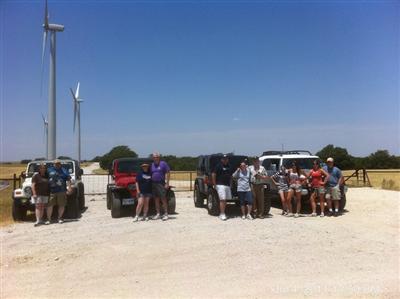 In case you are wondering, the vehicles above are (left to right) a 2006 Wrangler TJ 'Golden Eagle'; my red 1995 Wrangler YJ; a 2004 Wrangler TJ Rubicon; and, a Toyota FJ Cruiser.


Now let's take a look at:


Readers Jeeps of the Month
(Find Out How to Show off Your Jeep! It's Easy!)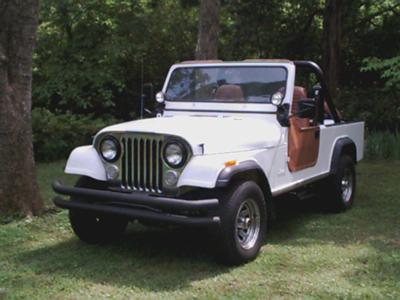 Joe's 1982 CJ8 Scrambler Restoration...(click photo for more!)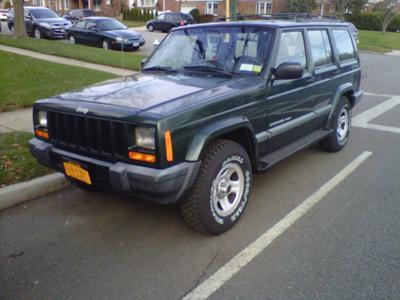 Kristen's Life Saving 2000 Jeep Cherokee XJ...(click photo for more!)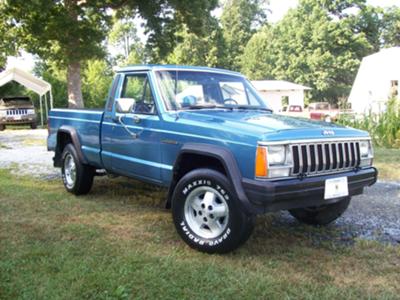 Kelly's 1987 Jeep Comanche MJ...(click photo for more!)



Sandeep's 2011 Mahindra Thar CRDe...(click photo for more!)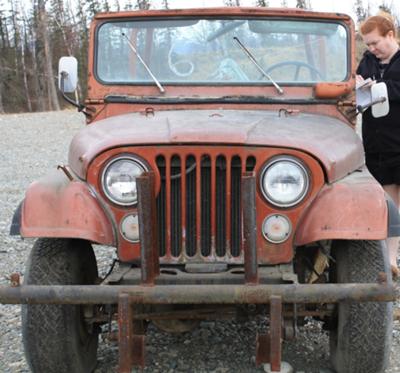 Dan's "Old Rust" 1975 CJ5...(click photo for more!)



Steve's 2009 Jeep Rubicon JK Unlimited...(click photo for more!)




Jeep Tips of the Month
...Your Exhaust System!


While finishing off installing the new transfer case on my '95 YJ I put new u-joints on both drive shafts. Also, since I was spending some quality time under the Jeep I noticed the catalytic converter, the muffler and the tail pipe all looked old, dented and rusty.




An old or malfunctioning catalytic converter can cause engine performance and efficiency to drop significantly...even rendering the Jeep dead in the water if plugged badly enough.

Most catalytic converters have a recommended life span of between 60,000 and 100,000 miles, so if yours has not been replaced in a while, it might be a good time to do it now.

I recommend using a "direct fit" factory or aftermarket unit over a "universal" model simply because there is usually less hassle involved with the replacement (i.e. exact length and pipe fitment).

Prices can vary a lot, and the "direct fit" models are usually a bit higher than the "universal" fit cats. There are also aftermarket "direct" and "universal" fit standard and performance models. I purchased a Magnaflow (aftermarket "direct fit") unit with less restrictive exhaust flow...primarily because the factory unit for an older Jeep like mine would be twice as expensive and a "special order" because no local parts stores carried them.

A new muffler is recommended if the old one is leaking from rust, holes, cracks or obstructions from severe dents.

My choice was a Flowtech Raptor "turbo" style with a mild deep throated sound. I initially wanted a quiet stock type muffler, but once again these were not as easy to find (or as inexpensive) as the aftermarket "turbo" brands...at least not for my '95 YJ.

The tail pipe should also be checked for rust, dents or kinks which can leak exhaust gasses or restrict flow.

My Jeep's tail pipe was kinked and dented due to the rear sway bar that had become disconnected on the tail pipe side. So the sway bar was reconnected and the tail pipe was replaced.

With me doing all of the work myself (no welding...clamps only) all of the parts were just under $200, total. Your Jeep's exhaust system may be more or less depending on the model, year, parts availability, personal preferences, where you get your parts, and any outside labor costs.

Similar to humans, engines must breath to function. So, a well maintained exhaust system can keep your pride and joy breathing like Secretariat winning the Triple Crown.

Jeep Trivia: The 134 cubic-inch L-head 4 cylinder motor used in the WWII Model MB Willys Jeep was rated at a mere 60 h.p., compared with a 2007 JK Wrangler's 3.8L V6 making around 205 h.p.

Until next time remember this: the other guy on the trail can be your best friend...or your worst enemy. It pays to know the difference!

Larry




Compare Jeep Catalytic Converters

Compare Jeep Mufflers

Compare Jeep Tail Pipes

Compare Jeep Exhaust Front Pipes

Compare Jeep Exhaust Manifolds


Get your Jeep's repair manual or a fun Jeep book...the cheapest Jeep book deals are at Jeep Books Plus.



***Please Remember Our Service Men and Women in Your Prayers! You Can Help Support the Troops in Many Ways. Here are several Military Support Websites.***




***P.S. Don't forget to get your Jeep photo and story...new, used, beater, project or in any other condition...on the Love of Jeeps website by submitting yours here: Your Jeep Page...and I will consider it for the website.

Let me know what you think about anything Jeep related by contacting me anytime.

***P.S.S. Don't miss anything new on the 4 The Love Of Jeeps website by subscribing to the RSS and Jeeps Blog feed here: RSS/Jeeps Blog



---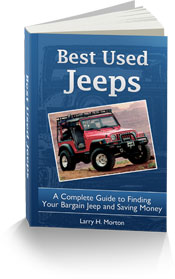 Simple to Download ebook Covers Nearly Every Jeep Found In The Used Marketplace. The Easy To Follow Guide Will Give You The Ability To Know The Differences, Good and Bad, Between Jeeps of Almost Every Model and Year.

No Bull Solid Info For Jeep 'newbies' And 'veterans' Alike!

***Hurry! Special Low Price for Newsletter Subscribers (over 33% lower than the already LOW sales price)***

Best Used Jeeps Guide...More Info!










---
Times are tough. Build a business the right way online. This is the real thing.

I use it to build my website, and I am so convinced that I invite you to Contact Me and I will tell you anything you want to know..with no hype....Larry