Hi ,



Hot town, Summer in the city...well not quite yet, but definitely starting to warm up here in the Southwestern USA.

Enjoying our Jeeps can be fun year round, but there is something special about Summer. This time of year just seems to beckon us to find the less traveled trails and to locate the best back country scenery...or simply enjoy our Jeeps in whatever way makes us happy.

I don't know about you, but I find that working on my Jeeps seems to be a never ending process...and although very rewarding I seem to always have something else to do on them.

As I had said in an earlier newsletter, I put an inexpensive air intake and filter on the '95 YJ Wrangler. I have more details about this system in the "Jeep Tips of the Month" segment below. Also, the '87 Comanche MJ Pickup is in desperate need of maintenance and will soon be getting attention to the ignition system, exhaust system, throttle body, and front end steering components.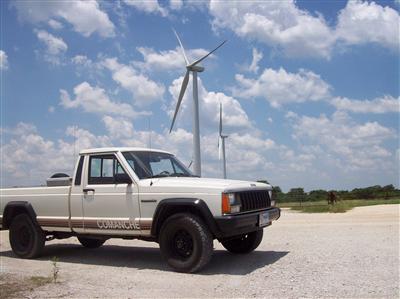 My 1987 Jeep Comanche MJ Pickup


I will be doing all of the work myself, and searching for bargains on the parts to keep the costs down as much as possible. You see I was not born with a silver spoon in my mouth...but more like with a greasy wrench in my hand...ha! Nothing wrong with silver spoons and such, but I get a thrill out of finding bargains...especially for my Jeeps.



Now, let's take a look at some of our:




Readers Jeeps of the Month
(Find Out How to Show off Your Jeep! It's Easy!)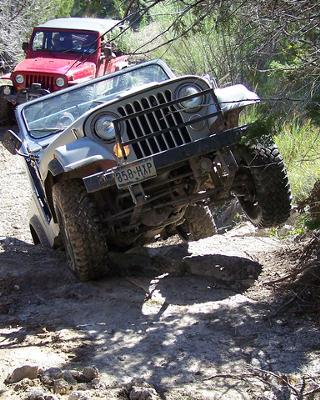 Chris likes older Jeeps like his 1985 CJ7...(click photo for more!)



Burns is not afraid to take his 2006 Jeep Commander Off Road...(click photo for more!)



Green is DJ's favorite color...at least for his 1994 Wrangler YJ...(click photo for more!)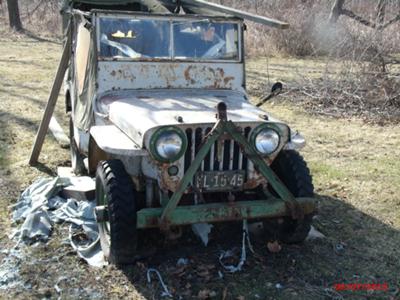 Mike's 1946 Willys CJ2A Project has great potential...(click photo for more!)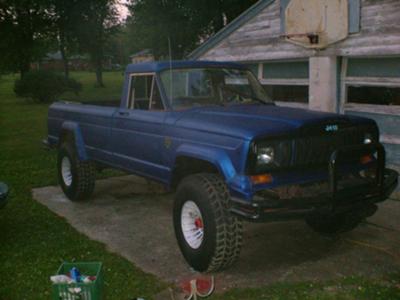 Denver's 1983 Jeep J20 Pickup is a Classic...(click photo for more!)



Jeep Tips of the Month...
Cool Air Intake Systems


A cool (or cold) air intake system essentially consists of a metal, plastic or rubber tube connected at one end to the engine's throttle body or carburetor. The other end connects to a specialized free flowing air filter, which may be re-usable or replaced as needed. Most come with the necessary plumbing for attaching hoses, vent tubes and sensors that your engine requires.

Finding one of these systems commercially for less than $100 is seemingly impossible. Many of these systems are between approximately $150 and $400 for each set-up (excluding installation fees if not done by you).

Well, I recently stumbled upon a simplified design which uses much of your engine's original hardware, but serves the same general purpose of the expensive units, which is to get as much cooler air into your engine intake as possible with the least amount of restriction.

I found a small company on ebay that puts out an entire catalog of chromed air intakes with the filters, and basic hardware for most Jeep engines. The prices vary depending upon your specific application, but the set-ups I looked at were all significantly less than $100.

You can find your application by starting with the ebay link below:

Jeep Chromed Cool Air Intake Systems

I paid $22.00 plus $10.00 shipping for my '95 YJ 4.0L engine cool air intake system. (See photos below)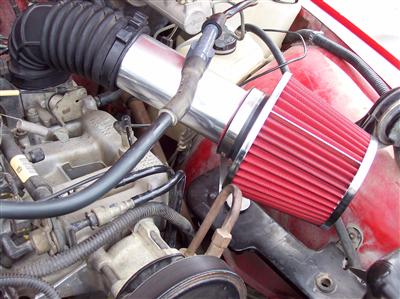 The company originally sent me the wrong chromed tube size, however when I contacted them by phone they immediately shipped me the correct size at no extra cost. So, I would suggest that you order by phone (if you choose to order), and have all of your original intake measurements available if possible...because there may be some minor variations in sizes with certain Jeep years even with the same engine.

Although I don't have any scientific functional testing for this system I do know that it is less restrictive in air flow than with the factory air cleaner set-up...and that can't help but be a good thing.


Jeep Trivia: The 134.2 cubic inch F-head four cylinder motor debuted in the 1953 CJ3B creating 70 horsepower at 4,000 rpm.


So until next time remember this..."Maintenance-Free" usually means that when it breaks...it can't be fixed.

Larry




Get your Jeep's repair manual or a fun Jeep book...the cheapest Jeep book deals are at Jeep Books Plus.



***Please Remember Our Service Men and Women in Your Prayers! You Can Help Support the Troops in Many Ways. Here are several Military Support Websites.***




***P.S. Don't forget to get your Jeep photo and story...new, used, beater, project or in any other condition...on the Love of Jeeps website by submitting yours here: Your Jeep Page...and I will consider it for the website.

Let me know what you think about anything Jeep related by contacting me anytime.

***P.S.S. Don't miss anything new on the 4 The Love Of Jeeps website by subscribing to the RSS and Jeeps Blog feed here: RSS/Jeeps Blog



---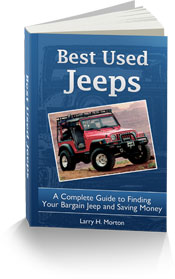 Simple to Download ebook Covers Nearly Every Jeep Found In The Used Marketplace. The Easy To Follow Guide Will Give You The Ability To Know The Differences, Good and Bad, Between Jeeps of Almost Every Model and Year.

No Bull Solid Info For Jeep 'newbies' And 'veterans' Alike!

***Hurry! Special Low Price for Newsletter Subscribers (over 33% lower than the already LOW sales price)***

Best Used Jeeps Guide...More Info!










---
Times are tough. Build a business the right way online. This is the real thing.

I use it to build my website, and I am so convinced that I invite you to Contact Me and I will tell you anything you want to know..with no hype....Larry