1983 Jeep J-20
by Denver
(Indiana)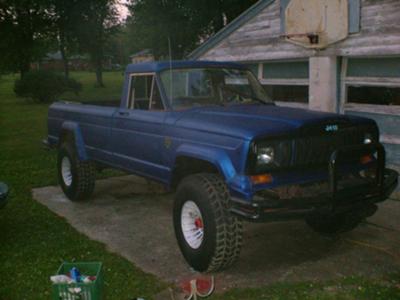 I bought my Jeep J20 pickup for $800 8 years ago, and I've been working on it since.


It has a 360 V8 with cam, lifters, intake, carb and heads. It also has 4.11 suregrip gears, 37x12.5x16.5 military Hummer tires. Just a little more work to the inside and it will be all finished.
I used to take it wheeling all the time but got really tired of bashing it apart and having to put it back together every weekend. This ole thing is by far the most dependable and toughest truck I've ever owned. It's just a blast to drive.
Larry's Comment: Denver...These old Jeep trucks are getting harder and harder to find in decent shape.

Yours looks to be in good running condition. These trucks are classics now, and hopefully will someday get the recognition they deserve.