Hi ,



Wow! February literally blew in like an angry lion here in North Central Texas.

For an area that rarely gets any snow at all the first week of the month gave us not one, but two snow storms...with a lot of ice underneath.




To those of you who have to endure (or love) this kind of weather for weeks and months at a time...I apologize for sounding so excited about one whole week of it here.

To us in the Southwest USA this kind of weather would be akin to the North and Northeastern states having humid 100+ degree days for a week straight...in mid-Winter.

Anyway, since the Wrangler is still without its transfer case, I took the '87 Comanche MJ (above) out in the snow everyday...and did some high speed power slides in the school parking lot...in 4-wheel drive of course.

The funny thing is that throughout it all the only mishap was coming out of the school parking lot (very slowly this time)...and sliding into a curb side-ways possibly knocking my front-end out of alignment. Dumb!

The snow and ice are all gone for now and we are back to seasonal conditions...so let's take a look at last months:



Readers Jeeps of the Month
(Find Out How to Show off Your Jeep! It's Easy!)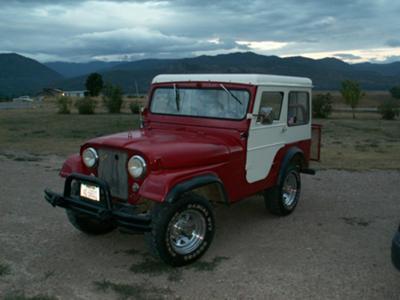 Smokey's 1957 Willys CJ5...(click photo for more!)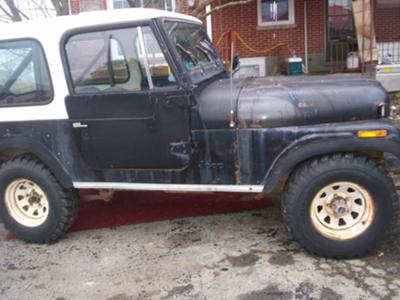 Steve's 1978 CJ7 Survivor...(click photo for more!)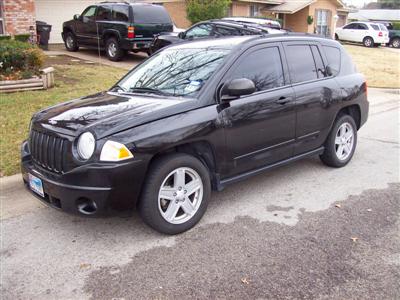 Paige's 2008 Jeep Compass...(click photo for more!)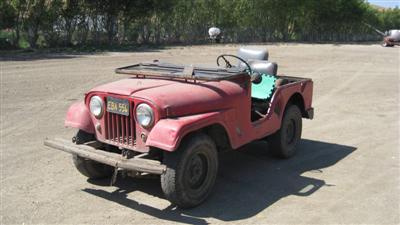 John's M38A1/CJ5 Willys 1st Love Affair...(click photo for more!)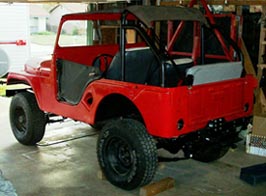 Eric's 1965 CJ5 Love/Hate Relationship...(click photo for more!)




Jeep Tips of the Month
...Weight, Shape and Mileage


It is a known fact that the two most important factors affecting gas mileage are aerodynamics (amount of wind resistance) and overall weight of the vehicle.

Most Jeeps, aside from the Grand Cherokee, Compass and Patriot are NOT very aerodynamically designed for cutting through the air at highway speeds...thus reducing gas mileage due to the boxy or squared shape, which works more like a wall than a dart moving through air.

An example would be the difference in shape between a Fed-ex van and a Corvette...one a box shape (like a wall) and the other sleek (aerodynamic).




The other factor affecting fuel economy is weight.

Now aside from the Compass and Patriot, most Jeeps are quite heavy when compared with other vehicles their outward size.

This extra weight is due to heavier construction to make Jeeps capable of dealing with rough off road conditions. The Jeep Wranglers still have a full steel frame and separate body.

Although the Grand Cherokee, Liberty, Patriot and Compass all have uni-body construction (no separate frame) the 4-wheel drive versions have increased weight to accommodate the 4x4 components.

Okay, so to simplify why this translates into lower gas mileage...more weight requires the engine and drive-train components to work harder to move the vehicle along...thus requiring more fuel.

Now, let's say you add heavy duty bumpers, a winch, rock sliders, skid plates (armor), off road lights, bigger than stock tires and a roof rack.

Voila! You have just added 500 to 1000 lbs. or more to your Jeep.

Nothing wrong with any of that! Just be prepared for a drop in fuel economy.

But remember why you bought your Jeep in the first place. If it was to get good fuel economy...may I suggest selling your Jeep and getting a Toyota Prius.

However, if you wanted a rugged, tough and solid vehicle to get you anywhere you need to go...then your Jeep is it!

So until next time...remember this...for better gas mileage...Eat More Beans!

Larry




***Please Remember Our Service Men and Women in Your Prayers! You Can Help Support the Troops in Many Ways. Here are several Military Support Websites.***




***P.S. Don't forget to get your Jeep photo and story...new, used, beater, project or any other condition...on the Love of Jeeps website by submitting yours here: Your Jeep Page...and I will consider it for the website.

Let me know what you think about anything Jeep related by contacting me anytime.

***P.S.S. Don't miss anything new on the 4 The Love Of Jeeps website by subscribing to the RSS and Jeeps Blog feed here: RSS/Jeeps Blog



---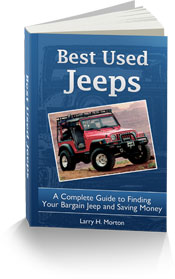 Simple to Download Ebook Covers Nearly Every Jeep Found In The Used Marketplace. The Easy To Follow Guide Will Give You The Ability To Know The Differences, Good and Bad, Between Jeeps of Almost Every Model and Year.

No Bull Solid Info For Jeep 'newbies' And 'veterans' Alike!

***Hurry! Special Low Price for Newsletter Subscribers (over 33% lower than the already LOW sales price)***

Best Used Jeeps Guide...More Info!










---
Times are tough. Build a business the right way online. This is the real thing.

I use it to build my website, and I am so convinced that I invite you to Contact Me and I will tell you anything you want to know..with no hype....Larry