My 1965 CJ5 21 Year Old Love/Hate Relationship!
by Eric
(Redlands, CA, USA)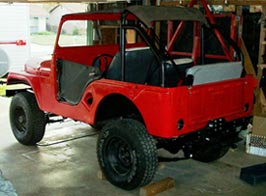 Hooked up with her in 1989 for $1700, drove her 15 miles home, and tore her down to her frame so I could show her my love.

Her? Yes. We were in-love from first site, compatible, and saw a future together. I gave her new springs, rebuilt motor, and even a fire engine red paint job.

Before I could even think of "test driving" her, she wanted some leather and chrome bling. I told her "babe", lets take this one step at a time. I had to slow my roll with her.

My buddies kept saying, "dude, she's hot. Why don't you seal the deal?" Well, I've grown some and she's not getting any younger either.

I again see the love we once had and I am willing to work slowly on rebuilding our relationship. I think by now she knows I am not a rich man and will accept me for my loyalty.

Thanks to all who helped me through this.


Larry's Comment: Eric...these kinds of relationships always have peaks and valleys. I think you are finally over the worst of it.

Now get a grip, take your meds and get back to reality.

BTW...she's not bad for a red-head!