Hi ,




Reader's Jeeps of the Month
Hap's very nice 1981 CJ8 Scrambler (Click Photo for more info)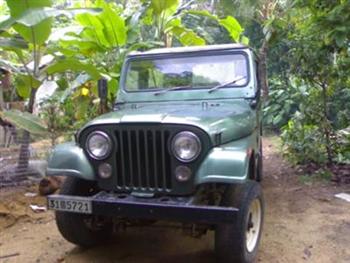 Mohan from Sri Lanka shows off his 1980 CJ6 (Click Photo for more)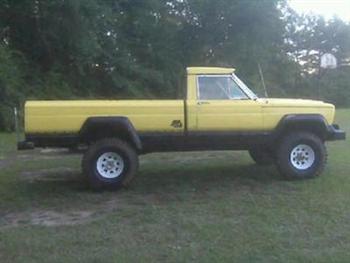 Jonathan's FSJ 1970 Jeep Pickup (Click Photo for more info)


August already? This Summer (or Winter for those of you in the other hemisphere) is flying by in a hurry.

I hope you are having loads of fun driving, building, repairing, dreaming about, buying or off roading your Jeep.

My 1987 Jeep Comanche MJ Pickup has been in the shop for the past 2 weeks getting a completely new clutch system from the master cylinder..to the slave cylinder..to the pressure plate, release bearing and disk assembly.

It took only 2 days to get the entire job done...with the exception of a $5.00 spacer bushing in the clutch pedal. I have been waiting for that little part to arrive from the manufacturer for over a week and a half..and still waiting.

There are two possible reasons for this delay:
1) Chrysler is in bankruptcy and what little efficiency they once had is completely gone now, and
2) Old (uncommon) parts are more difficult to find as well.
Anyway, the old Comanche should be in great shape again once it's all done.




WHAT'S New at 4-THE-LOVE-OF-JEEPS HEADQUARTERS?





Selling your Jeep Wrangler is different than simply selling just any Chevy, Ford, Chrysler, other domestic or foreign car/pickup. Find out why at:

How To Sell Your Used Wrangler

Two of the least talked about..and yet most famous Jeeps of all time are the DJ and FJ Postal Deliveries. Check them out here at:

The Postal Jeeps

The best buys in the used Jeep market today involve one of the most versatile models of all time. See if you agree here:

Best Jeep Buys: Cheap and Plentiful




Well, that's about all for this issue...and don't forget that this is your site as well, and your input is always appreciated..so do like the Reader's Jeeps of the Month did above and choose one of the "Invitations" from the list that suits you and submit your Own Jeep Experience.




Stay safe and remember...bats and opossums were meant to be upside down..NOT Jeeps!

Larry