How to Sell Your Used Jeep Wrangler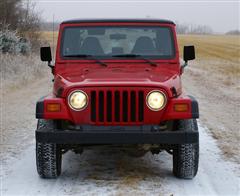 So now it's time to sell your used Jeep Wrangler.
Maybe your moving up to a newer Jeep..or..you've had some financial set-backs..or..your family has grown and unfortunately the Wrangler hasn't.
Whatever the reason you now have the often unenviable task of selling the vehicle that gave you many memories, possibly good and bad alike.



Assuming that selling used vehicles is not your specialty, you might need some guidance as to how to go about getting the best price with the least amount of hassle.
It might sound crazy but one of the biggest problems with trying to sell your personal used Jeep Wrangler is being too personally attached. After all, you spent many hours (and money) driving and caring for this personified piece of iron, plastic and rubber. Heck...you might have even given it an affectionate name...like "Sampson", "Hercules", "Beast", or even "Suzy".
This can lead to over-inflating the value of your Jeep, and can also lead to disappointment when no-one seems interested in what you have to sell.


Another common issue is expecting prospective buyers to want to beat down your door simply because you have put thousands of dollars and every aftermarket item available in...and on your Jeep. Sure your Wrangler looks great and may perform with the best of them...but most buyers are looking for bargains...and $20,000 for a '96 TJ even in perfect condition will attract attention, but none to very few will be willing to readily put up that kind of cash.
As a prospective buyer one thing that always gives me pause is to hear or see that the used Jeep Wrangler I might be interested in has evidence of being abused. Sure, Jeeps are made for off road and tough conditions...but some folks tend to go overboard and beat the heck out of their rides. So as a seller you might want to fix any bad skid plates, body parts, rough paint marks, scratches/dents and for Pete's sake wash and polish the entire vehicle before advertising it. I have seen many Jeeps advertised with a coat of mud inside and out to the point where I couldn't quite tell what I was looking at.
So here are a few tips for selling your used Jeep Wrangler and getting the best possible price:
Wash, clean and polish everything including the engine and engine bay BEFORE showing it to prospective buyers.
Make as many cosmetic repairs as possible. Many buyer's first impressions often seal the deal.
Put new tires on your Jeep if at all possible. This is often a big selling point.
Make sure everything is working properly on the Wrangler. An informed buyer will be calculating the cost of repairs and figuring whether your asking price is justified.
Replacing doors, side windows, soft top, or hard top are expensive and should be reasonably reflected in the used Jeep price.
Repair all significant fluid leaks which signal future trouble for the prospective buyer.
Have the engine freshly tuned with new fluids throughout. The test drive by the buyer should be pleasant with no unusual noises, jumps, jerks or bumps.
Advertise your Jeep with as much detail as possible including positives and negatives. Buyers appreciate detail when they are trying to make a decision.
Please don't try to hide any serious problems. I say "please" because this is what has always given many used car sales-people their bad reputations. You might get a higher price for your Jeep, but you still have to look at yourself in the mirror. Just be honest.
Look at other used Jeep Wranglers for sale similar to yours to get an idea of what the current market prices are. Also note that dealer prices are often significantly higher than individual owner's asking prices.
And finally, set a price that is reasonable for you and one that will attract serious buyers...then close the deal.
The greatest demand for Used Jeep Wranglers is usually in the Spring and Summer months, with the least demand (therefore lower asking prices) found in the Fall and Winter seasons.
So, your best time to sell and get your best price should be when the weather warms up and more folks want to put the top down (or take it off) and cruise the back-roads with the breeze blowing through their hair.
I like the sound of that too!


Find out How to Buy a Used Jeep Wrangler!

See How to Buy a New Jeep!

The Jeep Wrangler Page!

Jeep Wrangler Unlimited Page!


Custom Search