The Postal Jeep Delivers
Jeep Postal DJ5
The little Postal Jeep and the neighborhood Letter Carrier (AKA = postman, mailman, postal worker, etal.) have been a big part of
Americana
for many years.
The Jeep DJ (Dispatcher Jeep) began life around 1956 as the
DJ3A
, a two-wheel drive version of the 4x4 flat fender CJ3A. The DJ3A was designed for
on the road
delivery chores and for simple, cheap basic transportation.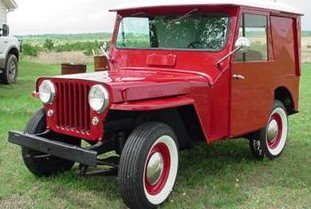 1961 DJ3A
It was also found to be useful as a
basic utility vehicle
for short deliveries, maintenance duties, security and police close patrol, ice-cream wagon and mail delivery among other uses.
Around 1958 Willys produced the DJ3A Gala Surrey open air Jeep in various bright two-tone colors most notably the two shades of pink. It typically had the "surrey" style top for shade with fringed edging. Most often these Gala models were used in tourist areas here and abroad, especially in resorts.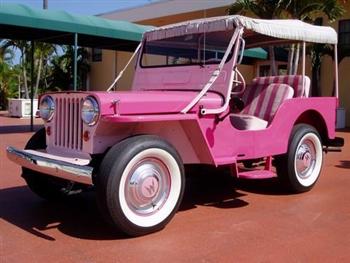 1965 Jeep DJ Gala Surrey (Pink Jeep)
By 1965 the DJ3A Dispatcher Jeeps were replaced by the
DJ5
which was the two-wheel drive version of the 4x4 CJ5. Although a non-4x4 vehicle the DJ5 also shared most other necessary components with the CJ5 at that time.
The U.S. Post Office was now using the small mail Jeeps almost exclusively, and by 1968 Kaiser Jeep introduced the DJ5A with a fully enclosed body, automatic transmission and right-hand drive (postal vehicles only).
More Postal Jeeps with various upgrades were to follow including the DJ5B (1970-1972)...the DJ5C (1973-1974)...the DJ5D (first to be produced by AM General 1975-1976)...and the DJ5F, DJ5G, DJ5L (built by AM General through 1982).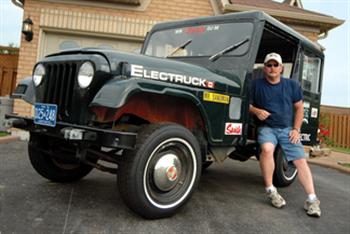 Rare Original Jeep DJ5E All Electric Postal Found and Restored by Glen Burgess.
---


The Postal Service also used other Jeep models over the years including the FJ (Fleetvan Jeeps) from about 1961 through 1975+.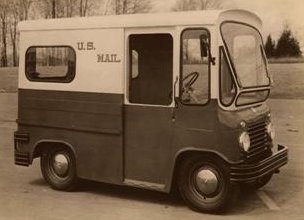 Jeep Postal FJ3 Fleetvan



So the next time you hear this Post Office (often attributed) slogan..."Neither snow, nor rain, nor heat, nor gloom of night stays these couriers from the swift completion of their appointed rounds" you might also think of those sturdy red, white and blue Postal Jeeps as well.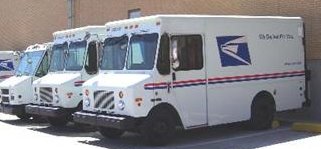 Jeep Postal FJ9 Fleetvans
Jeep CJ3A Page!
Jeep CJ5 Page!
Jeep CJ7 Page!
Jeep Forward Control Page!
Custom Search
Doing a site search is the easiest way to find specific info on my site

(Return to Top of this Page...Postal Jeep!)
Home|About|Site Map|Contact Me|What's New?|Disclaimer