Hi ,



Here at the Jeep Lovers Headquarters things are really heating up. Your humble host has finally pulled the trigger on a project Wrangler.

After a lot of searching and patience (which wasn't easy...especially the patience bit) I found the Jeep Wrangler that had almost everything I wanted on it. Best of all, it was a bargain.

I was able to negotiate $2000 off of the sellers asking price. My Wrangler is a 1995 YJ with a black hardtop (never been removed), 6-cylinder/4.0L engine (rebuilt 40,000 miles ago), functional air-conditioning, nice stereo, new 30x75x9.50 AT tires, hide-a-trunk...and it's red.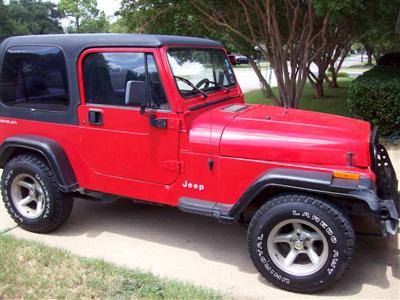 This is What My YJ Looked Like When I First Got it Home



It needs a lot of minor tweaking and will be getting my personal touches as times goes by. It had some minor damage to the front grill and fender lips...so I got the angle grinder out and promptly cut off the mangled lips (that sounds painful).

Anyway, I will be keeping you informed of the progress on my new (old) YJ. I don't intend to spend much money on this Jeep, so I will be doing as much work as possible myself.


One Fender off and Other Fender With Chopped Lopped Off Lip



So what have our newsletter readers been up to? Here are our:



Readers Jeeps of the Month
Tim's 1966 CJ5A Tuxedo Park Fire Jeep...(click photo for more!)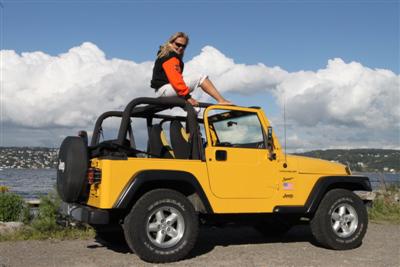 Jan from Norway Showing Off His Wife and 2000 Wrangler...(click photo for more!)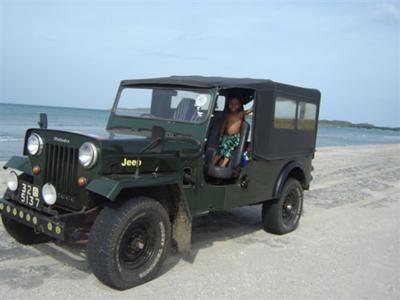 Michel's 1988 Mahindra CJ640 DP...(click photo for more!)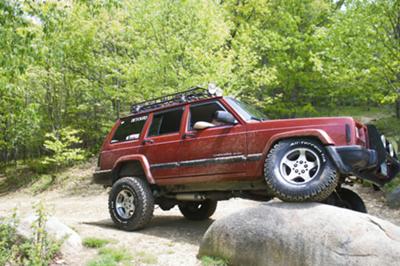 Matt's 1999 Cherokee XJ...(click photo for more!)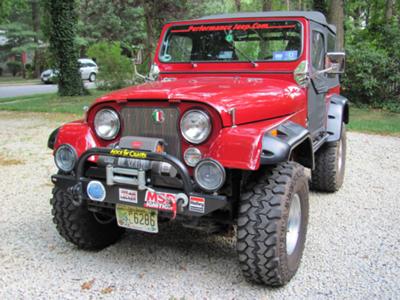 Bruno's 1985 Jeep CJ7...(click photo for more!)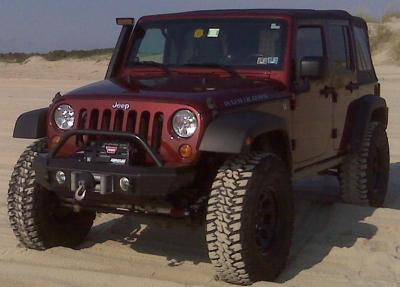 Rich's 2007 Wrangler Rubicon (Rubikong)...(click photo for more!)



Jeep Tips of the Month


It's not too soon to start getting your rig ready for Winter. Many of you live in very cold Winter climates, so this may be most critical for you when the snow starts piling up and the temps start to fall.


Check and replace belts and hoses. No one wants to be stranded in temperatures well below freezing while the belt is shredded like chow mein, or a hose is leaking coolant/anti-freeze on the snow giving it that snow cone yellow or green tint.
Speaking of anti-freeze, make sure your radiator and water pump are happy with a clean fresh 50% antifreeze and 50% water mixture. Also, a good idea to flush the entire system before adding the new blend.
Try to get your scheduled oil change and chassis lubrication done before the mercury starts to plunge.
Don't forget your tires. Change them out now if they are worn significantly. If you have snow tires make sure they are properly aired up and ready to go. Same holds true for all five tires (remember the spare).
Patch up holes, tears, zippers or worn places on your soft top if you have one. Replace now if necessary.
Store your survival gear now lest you forget to do it later and find yourself singing harmony with the local coyotes while trying to keep from freezing to death miles from home.
Fix anything needed on your Jeep now while you can still feel your fingers. Man it stings when your frigid hand slips off the wrench and slams into cold steel. Ouch!


So until next time remember...the letters J-E-E-P stand for...Just Eliminate Every Politician! Okay, I just made that up...but maybe not a bad idea...eh?

Larry


***P.S. Don't forget to get your Jeep photo and story...new, used, beater, project or any other condition...on the Love of Jeeps website by submitting yours here: Your Jeep Page...and I will consider it for the website.

Let me know what you think about anything Jeep related by contacting me anytime.

***P.S.S. Don't miss anything new on the 4 The Love Of Jeeps website by subscribing to the RSS and Jeeps Blog feed here: RSS/Jeeps Blog



---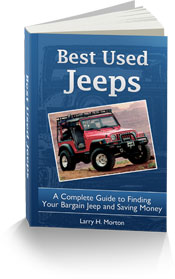 Covering Nearly Every Jeep Found In The Used Marketplace, This Easy To Follow Guide Gives Readers The Skills To Locate And Negotiate The Purchase Of A Used Jeep Of Their Dreams...and Save Hundreds of Dollars$$$

No Bull Solid Info For Jeep 'newbies' And 'veterans' Alike!

***New Special Low Price for Newsletter Subscribers (over 33% lower than the already LOW sales price)***

Best Used Jeeps Guide...More Info!










---
Times are tough. Build a business the right way online. This is the real thing.

I use it to build my website, and I am so convinced that I invite you to Contact Me and I will tell you anything you want to know..with no hype....Larry