My Mahindra CJ 640 DP
by Michel
(Negombo, Sri Lanka)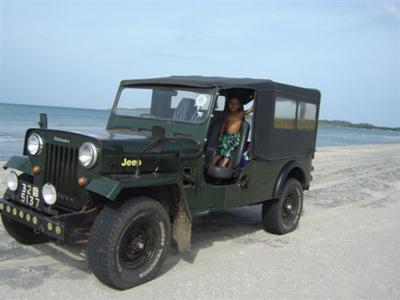 On the beach in Tricomali
It's an ex Sri Lankan police Jeep with 1988 as first year of registration.


I recently bought it and I am in the process of getting it in a good condition. Items repaired so far are, main brake pump, steering rod joints renewed to remove play and a wheel alignment. Tightened the head gasket as it was not tightened after an engine overhaul and was leaking. So far it seems to be ok.
It has the original Peugeot XDP 4.90 2.1 liter diesel installed with a the original 4 speed Kia gearbox.
Next steps are a conversion to power steering, and place extension wheel plates as the current balloon tyres are touching the chassis when turning.
Needs cosmetic paint repairs, and may do a conversion to disk brakes.
I am looking for contact with other Mahindra Jeep owners in Sri Lanka or anyone else interested in Mahindra Jeeps. (m.de.man@zonnet.nl)
Larry's Comment: Looks to be in great shape Michel!