RUBIKONG
by Rich
(Lancaster, PA)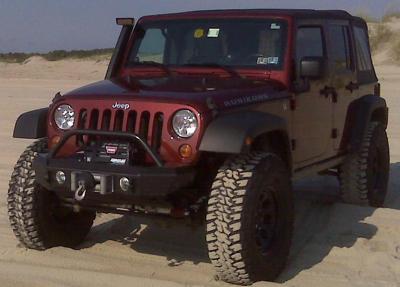 Life-time fascination with Jeeps led to an '87 XJ Chief, and it was when I got the 2000 Wrangler that off-roading became an obsession.

My daughter now has that TJ Wrangler and I moved to a 2007 4-door Wrangler (JKL). It began as a Rubicon, but was re-lettered after the lift, 37" tires and 5:13 gears were added.

The versatile Jeep is fun on-the-road, a blast with the top down and downright intimidating on dirt, rocks, sand or mud.

On trails with very tight trails and close trees I sometimes miss the shorter wheelbase, but only until we reach a hill-climb or carry extra passengers.

The next addition will be a vintage Willys, hopefully a CJ-3B.


Larry's Comment: I like! Very nice looking 4-door Rubicon..er..Rubikong! Let's see...an XJ, TJ and now an awesome JKL. Man, I can't wait to see that Willys CJ3B when you get it. Thanks Rich.