Hi ,



Here at Jeep Lover's Headquarters I receive a lot of emails from Jeep owners all over the world.

A common thread in most of these emails is just how much folks really enjoy, and feel good about their Jeep(s). I know that Toyota, Nissan, Ford, Chevy and other truck owners are a proud group of people as well, however there is something even more unique and special about having a Jeep.

I have owned a number of non-Jeep 4x4's and although they were fine vehicles in their own ways, none of them have come close to giving the satisfaction of ownership that my Jeeps have given me.

That is why I have focused this website exclusively on Jeeps...and also on YOU...my fellow Jeep Lovers, Jeep enthusiasts and Jeep owners.

You and anyone coming to visit this website have the opportunity to "showcase" your Jeep, any year, any model, and in any condition.

What do you get out of submitting your Jeep? Well, you get your Jeep's photos (up to 4), your story in your own words, and all of it published on your own webpage.

So if you haven't done so already, go ahead and show off your Jeep ride. It can be brand spanking new, old as the hills, a project Jeep, daily driver, modified off road monster, or rust bucket.

Just send it in and give me a good description (story), and up to 4 clear photos. Not all will be accepted, but all will be looked at for inclusion into the website.

Click the link below to see how to submit your Jeep (contact me if you need any assistance):

Submit Your Jeep


And now for some examples of:


Readers Jeeps of the Month
(Find Out How to Show off Your Jeep! It's Easy!)


Luke's 1984 Jeep CJ7...(click photo for more!)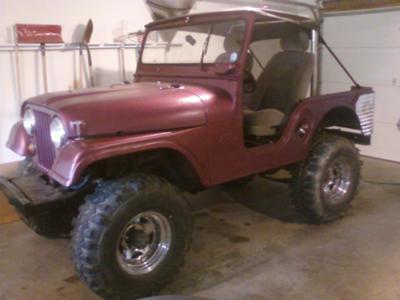 Ike's 1969 CJ5...(click photo for more!)



Chris' 1999 Jeep Grand Cherokee...(click photo for more!)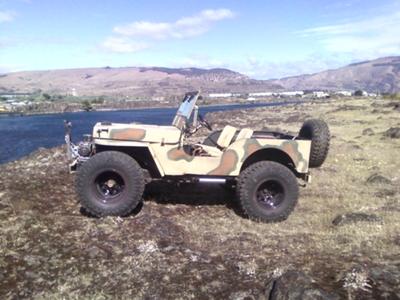 Jerry's 1942 Willys MB Resto-Mod...(click photo for more!)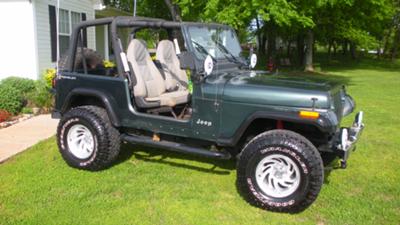 Jeff's 1994 Wrangler YJ...(click photo for more!)



Jeep Tips of the Month...
Practical Aftermarket Rearview Mirrors


My '95 Wrangler YJ has full steel doors with the factory rear-view mirrors. I wanted to be able to remove the doors while offroading or just cruising, but that would mean the exterior rear-view mirrors would stay with the removed doors.

Now it is illegal in most states to drive without at least one (driver's side) rear-view mirror in place, so I started searching for a set of mirrors that would be attached somewhere else other than on the doors.

I thought about the quick release mirrors that slide into, and bolt onto the upper door hinges when the doors are off the Jeep...but then again they would have to be removed and stored when the doors were put back on the hinges.

I wanted something permanently attached to my Wrangler where I could take the doors off at any time and just go, without worrying about the mirrors (I like things simple and easy).

After some research I found a pair of Rugged Ridge CJ Style Mirrors for around $40 bucks.

I think they look good on the YJ and although they have some mild vibration on the road, they do the trick and I can take my doors off and go anytime I choose. The stock mirrors have been completely removed.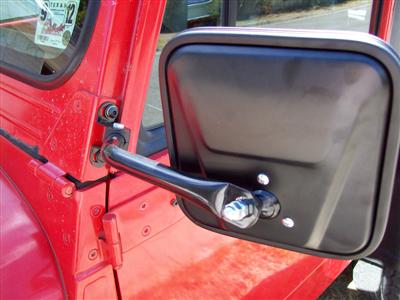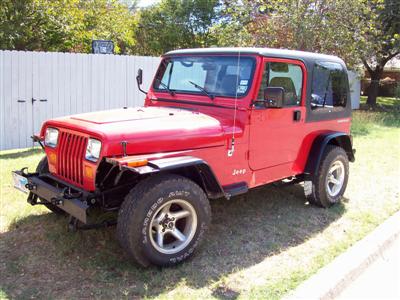 These mirrors can be ordered for a variety of Wranglers and CJ's, and there are also a number of relocation brackets for various Jeeps as well. These brackets allow you to relocate your stock door mirrors to the windshield frame, and off of the doors.

See various types of mirrors and relocation brackets in the links below:

CJ Style Mirrors



Mirror Relocation Brackets and Hardware



Jeep Trivia:In 1987 the Chrysler Corporation bought AMC (American Motors Corp.) from the French company, Renault and renamed it the Jeep/Eagle Division of Chrysler.


So, until next time remember these words of wisdom when you are working on your new Jeep..."a complex system that does not work is invariably found to have evolved from a simpler system that worked just fine."

Larry


Get your Jeep's repair manual or a fun Jeep book...the cheapest Jeep book deals are at Jeep Books Plus.



***Please Remember Our Service Men and Women in Your Prayers! You Can Help Support the Troops in Many Ways. Here are several Military Support Websites.***




***P.S. Don't forget to get your Jeep photo and story...new, used, beater, project or in any other condition...on the Love of Jeeps website by submitting yours here: Your Jeep Page...and I will consider it for the website.

Let me know what you think about anything Jeep related by contacting me anytime.

***P.S.S. Don't miss anything new on the 4 The Love Of Jeeps website by subscribing to the RSS and Jeeps Blog feed here: RSS/Jeeps Blog



---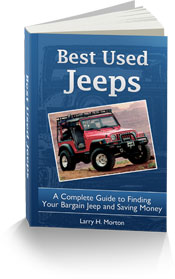 Simple to Download ebook Covers Nearly Every Jeep Found In The Used Marketplace. The Easy To Follow Guide Will Give You The Ability To Know The Differences, Good and Bad, Between Jeeps of Almost Every Model and Year.

No Bull Solid Info For Jeep 'newbies' And 'veterans' Alike!

***Hurry! Special Low Price for Newsletter Subscribers (over 33% lower than the already LOW sales price)***

Best Used Jeeps Guide...More Info!










---
Times are tough. Build a business the right way online. This is the real thing.

I use it to build my website, and I am so convinced that I invite you to Contact Me and I will tell you anything you want to know..with no hype....Larry