1994 Wrangler
by Jeff Platt
(Murfreesboro, Tennessee, USA)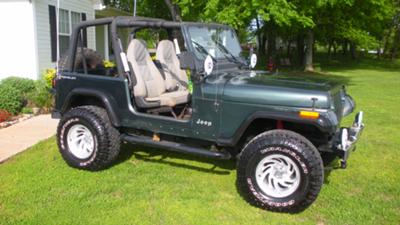 My 1994 Jeep Wrangler


I traded even up for my 1994 Jeep Wrangler around some time in Oct. 2010.

I had a 1997 Chevy Silverado. I was a little sketchy on Jeeps, but I gained some experience on this model thru a friend (I HAD TO REPLACE HIS OLD WORN OUT 4.2 Liter).

I have fell in love with my Wrangler almost everyday that I drive it. Yes, there are some issues and the ride is anything but smooth but what do you expect with this type of vehicle?

All I can say is this thing is tough. I get all kind of people stopping and looking at it, and several positive comments on it.


Larry's Comment: Jeff...nice YJ!

Like I almost always say, "Chevy trucks are okay, but I'll take my YJ over one of those...any day".
Join in and write your own page! It's easy to do. How? Simply click here to return to Jeep Wrangler Pride.