Hi ,



Finally, the Jeep bears can start coming out of hibernation. With Spring approaching rapidly in the Northern hemishere we can start thinking about "tops off", "doors off", or "windows down", and enjoying the warm weather.

However, this Jeep bear took the entire Winter (if you can call it that in Texas) to do some upgrades, and repairs large and small on the '95 Wrangler YJ, and even a few things on the '87 Comanche MJ.

The biggest task was installing the new Rough Country 4" lift kit on the YJ. The original leaf springs had been sagging quite a lot, and the new lift initially took the Jeep up about 6" until the new springs settled in to the advertised 4" inches of actual lift.

I did this lift completely by myself, taking my time and getting some of the necessary tools as I proceeded.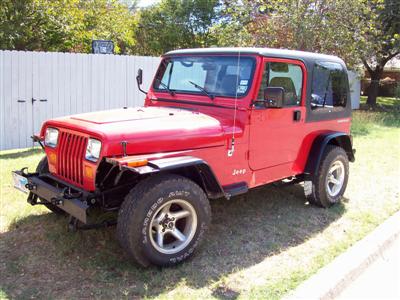 My YJ before 4" Lift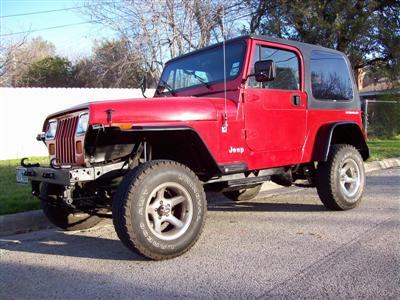 My YJ After 4" Lift..Notice how the 30" tires look even smaller..soon to go larger!


Contact Me if you have any questions about this lift. I have not had time to do any off road testing, but it appears to run great on the street so far.

I also added a simple cold air intake for only $22.00 (plus $10.00 Shipping), and a brand new swing-out tire mount bumper with a receiver hitch and D-rings for only $319.95 (total). I will talk more about these additions in future newsletter issues.



Now, let's take a look at some of our:




Readers Jeeps of the Month
(Find Out How to Show off Your Jeep! It's Easy!)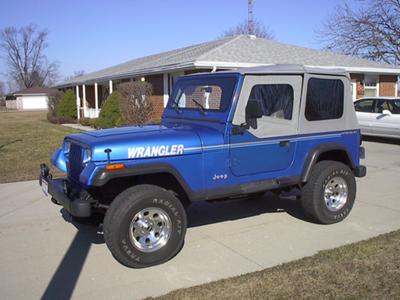 Nick's Clean '91 Wrangler YJ...(click photo for more!)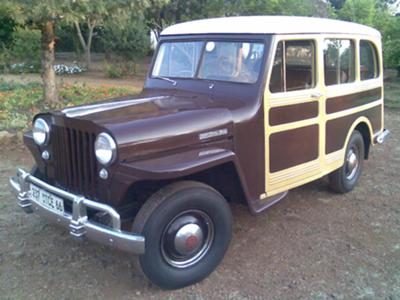 Anith's Classic 1947 Willys Overland Wagon...(click photo for more!)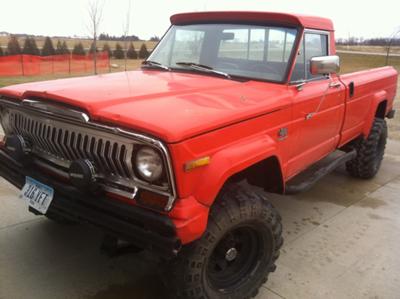 Mark's 1975 Jeep J20 Pickup...(click photo for more!)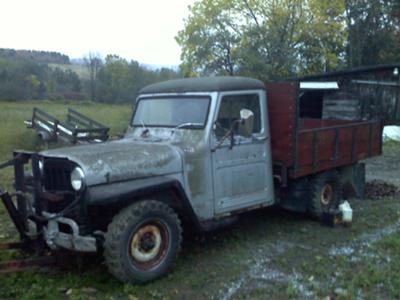 Greg's 1961 Willys Dump Bed Pickup...(click photo for more!)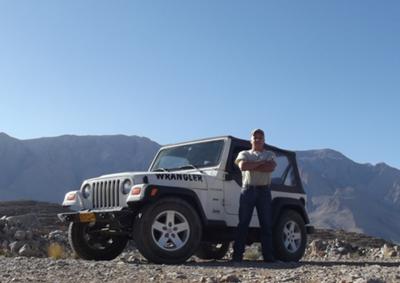 Ernie's 1997 Wrangler TJ in Oman...(click photo for more!)


Dr. Toor's '82 CJ5 in Pakistan...(click photo for more!)



Jeep Tips of the Month...
Security Center Consoles


An almost universal problem with owning any open air vehicle is having a relatively safe place to store your small valuables when you are away from that vehicle.

The Jeep Wrangler's, CJ's and even doorless Cherokee's or Comanches present the dilemma as to whether to carry all of your valuables with you, or hide them somewhere in the Jeep.

Some Jeep owners creatively build their own security consoles and storage boxes from surplus military ammo boxes with padlocks, while others fabricate something from scratch.

When the lid on my '95 YJ factory center console finally would not latch or lock properly anymore I started thinking about the best way to get more security as well as space in place of the old console.

Although I thought about making my own console out of a surplus ammo box (which I have done in the past) I opted to buy something that would give me the security, extra storage space, and a comfortable arm rest. The original center console in my Jeep sat so low that it was hardly usable as an arm rest, and had limited inside space.

What I found was a Smittybilt center console with all steel construction, large capacity, locking lid, high stance and comfortable arm rest. This particular console was made to fit the CJ7 and Wrangler YJ models...although I must say it was a pretty tight fit between the bucket seats (and the seat belts) on my YJ. I was however, able to make everything fit and couldn't be happier with the results. (see my console installed below)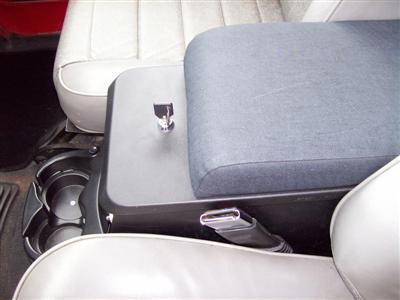 There are Smittybilt consoles made for most Jeep models and years. Mine cost $89.99 and can be found on Amazon with free shipping available. (see link below)

Smittybilt CJ/YJ Console

Check the link below for more security center consoles built for Wrangler Jeeps and others:

Jeep Center Consoles



Jeep Trivia: In 1941 Edsel B. Ford drove the first Ford Model GPW off the assembly line, which was Ford's version, along with Willys-Overland, of what would eventually evolve into the "Jeep".

So, until next time remember to...cinch up, choose a good line, go easy on the skinny pedal, and keep your head above your feet at all times.

Larry




Get your Jeep's repair manual or a fun Jeep book...the cheapest Jeep book deals are at Jeep Books Plus.



***Please Remember Our Service Men and Women in Your Prayers! You Can Help Support the Troops in Many Ways. Here are several Military Support Websites.***




***P.S. Don't forget to get your Jeep photo and story...new, used, beater, project or in any other condition...on the Love of Jeeps website by submitting yours here: Your Jeep Page...and I will consider it for the website.

Let me know what you think about anything Jeep related by contacting me anytime.

***P.S.S. Don't miss anything new on the 4 The Love Of Jeeps website by subscribing to the RSS and Jeeps Blog feed here: RSS/Jeeps Blog



---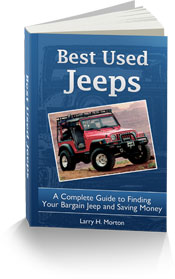 Simple to Download ebook Covers Nearly Every Jeep Found In The Used Marketplace. The Easy To Follow Guide Will Give You The Ability To Know The Differences, Good and Bad, Between Jeeps of Almost Every Model and Year.

No Bull Solid Info For Jeep 'newbies' And 'veterans' Alike!

***Hurry! Special Low Price for Newsletter Subscribers (over 33% lower than the already LOW sales price)***

Best Used Jeeps Guide...More Info!










---
Times are tough. Build a business the right way online. This is the real thing.

I use it to build my website, and I am so convinced that I invite you to Contact Me and I will tell you anything you want to know..with no hype....Larry