CJ 5 Jeep 1982 4.2L Inline 6 Cylinder
by Dr. AbdulWasayToor
(Lahore, Pakistan)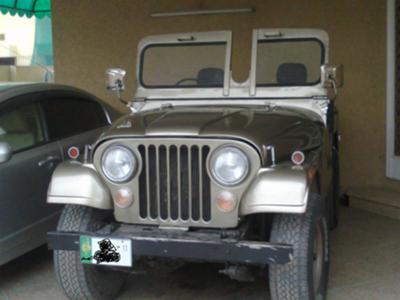 Finished!


I found this CJ 5 Jeep a year ago. I discovered it at a military junkyard with most of the parts intact including the engine, gear box, and the reinforced suspension with heavy leaf springs.

It was a challenge for me to restore this Jeep in its condition with original parts, provided these Jeeps are no more in use in our country in their original form. They all have modifications,
but my aim was to keep it in its original form with engine, gear box, suspension, carburetor etc. Eventually I succeeded.

I fortunately found an old military supplier who helped me in arranging genuine parts from different sources, although it was a time consuming and comparatively expensive option.

Now I can enjoy the real beauty of an original Jeep.


Larry's Comment: Very nice restoration, Doctor. I especially like the slot in the windshield for a big gun.

Also, looking at the "before" photos and the finished Jeep shows just how much you invested in time and money to get such a nice finished product.

I hope you thoroughly enjoy your nice CJ 5, Doctor. Thanks.
Join in and write your own page! It's easy to do. How? Simply click here to return to The Willys, Kaiser, AMC Jeep CJ.