1975 J20
by Mark
(Austin, MN)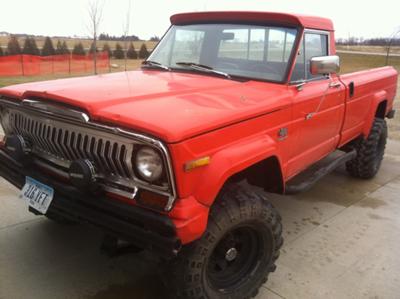 I found this 1975 Jeep J20 pickup truck on Craigslist.org out of Des Moines, Iowa.

I have since replaced the radiator and battery, and I hope to fix up the cosmetics on the truck. Mechanically it seems to run very good.

It has 33" Super Swamper tires on it, and is a very rough ride once I get over 55 MPH. It also has a Dana 60 rear, Dana 44 front, a Dana 20 transfer case, and a 4-speed manual on the floor.

I get between 7 and 8 mpg.


Larry's Comment: That J20 looks pretty straight from the photos, Mark.

I'm assuming your Jeep has a V8 motor which may account for the 7 to 8 mpg, however I'll bet those will be some fun miles whenever you slide behind the wheel of this cool classic.