Hi ,



In this month's issue we focus on one of my favorite Jeeps...the Wrangler YJ. Okay I am a little biased, only because I have been building on my '95 YJ for the past several years.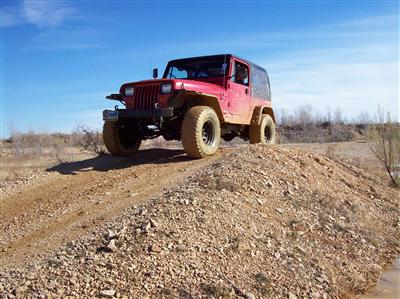 The Wrangler YJ was produced from 1987 through 1995. It replaced the venerable Jeep CJ7 which was discontinued at the end of the 1986 model year. Although it shared many physical and mechanical traits of the CJ, the YJ had a distinctively lower stance and those controversial rectangular headlights.

This Jeep is relatively easy to build into a very formidable off road machine, or simply use as a daily driver. With leaf springs on all four corners the suspension is less complicated than that of the newer Wrangler TJ and JK and their coil sprung suspensions.

The 258-ci (4.2L) carbureted six cylinder engine in the early YJ's could be troublesome at times, but with the bugs tuned out it performed quite well, and then it was replaced with the high output multi-port fuel injected 4.0L engine in 1990. The 2.5L 4-cylinder motor was also available from the beginning in the Wrangler YJ, but it started with throttle body fuel injection and was later fitted with multi-port fuel injection.

In this issue of Your Jeep Rides, Rigs and Rebuilds we will highlight several proud reader's rigs that they submitted to the 4-The-Love-of-Jeeps(dot)com website...focusing on their Wrangler YJ's. Also, if you have a Jeep truck, Wrangler, CJ, Cherokee, Grand Cherokee, or any other Jeep old or new...you can showcase yours on the website as well.



Your Jeep Rides, Rigs and Rebuilds!
(Find Out How to Show off Your Jeep! It's Easy!)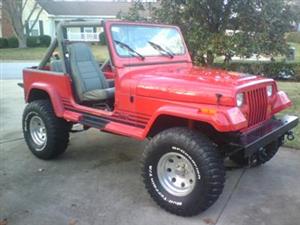 Jame's 1989 Wrangler YJ Islander...(click photo for more!)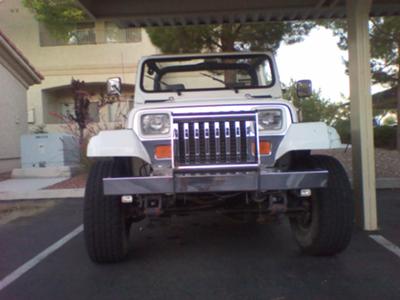 Eric's 1990 YJ Islander...(click photo for more!)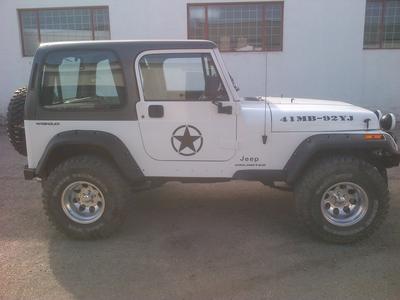 Johan's 1992 YJ Laredo...(click photo for more!)



Steve's 1994 Wrangler YJ...(click photo for more!)



Erik's 1994 YJ...(click photo for more!)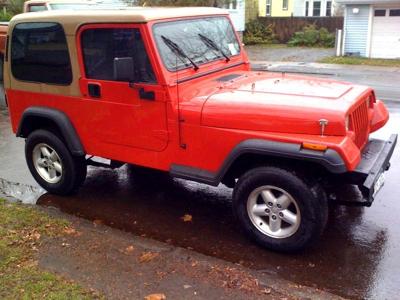 Mike's '94 YJ Potty-trainer...(click photo for more!)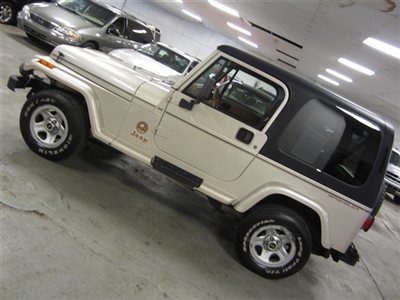 Scotty's 1995 Wrangler YJ...(click photo for more!)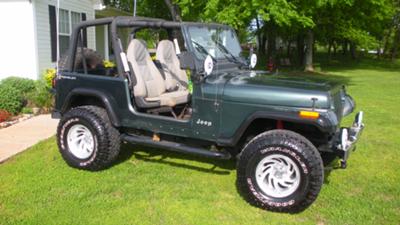 Jeff's 1994 YJ...(click photo for more!)




Jeep Talk...
Axle Swaps


If you own a pre-2007 (non-Rubicon, or special order) Jeep with the 4.0L engine...and you have put on some big tires and a lift...you probably noticed a drop in pavement pounding performance. This is because the larger diameter tires have effectively changed the overall gearing ratio of the final drive train.

If your Jeep came stock with the weak Dana 35 rear axle/differential, and the fair Dana 30 front axle/diff...your differential gear ratio is most likely 3.07 to 1. This ratio is okay for stock tire sizes and daily driving, but becomes inadequate with big tires (32" and up). So what can you do?

There are a lot of options for your Jeep. Unfortunately, most of them require a significant amount of money, time and/or expertise.

Changing the differential gearing in your Jeep's axles (both) is one option, but requires some experience to do yourself...so that even if the cost of parts is fairly reasonable, you may need to hire a specialist to set up the gears for you...and labor is expensive.

There are several other options for your Jeep ranging from custom fabricating installation of an existing axle from another Jeep, or from a compatible axle such as a Ford 8.8 set-up. Again, this requires some expertise and a fair amount of cash to pull off, but is a good alternative to buying and installing brand new aftermarket axle set-ups which are fantastic but can cost as much as many of us paid for our Jeeps in the first place.

So, after a lot of thought this is what I did to my 1995 Wrangler YJ 4.0L with the original stock 3.07 to 1 axles. As you may know, the Wranglers with the 4-cylinder engines came stock with the 4.10 to 1 axles, which can easily replace the original 3.07 to 1 axles in the 4.0L Jeeps. Simply remove the old stock axles and slide in the 4.10's.

I found my (new to me) 4.10 axles in a salvage yard and paid a little extra to have them do the swap. Now I have 4.10 to 1 gearing to push my 33" BFG tires better on the pavement as well as increased low-end function in the dirt.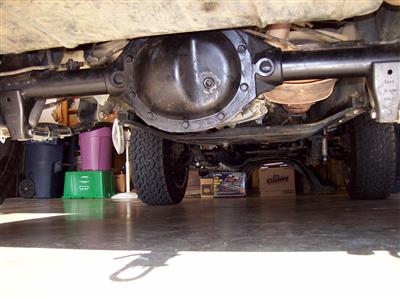 Yes, I still have the weak Dana 35 rear axle, but now I have fairly inexpensive lower (higher numerically) gearing for both front and rear axles. Since I am pretty satisfied with the Dana 30 axle up front I will probably add a locker later on, and will probably replace or upgrade the Dana 35 rear axle at some point. In the meantime I have the right gearing for my set-up, at a reasonable price and with minimal effort. For the most part...I'm happy..happy..happy!


Jeep Trivia: In 1948 the Jeepster was introduced as a midyear model.

Your Thoughts: Tell us about your "Cheap Jeep" experience. Did you get a great deal on a Jeep? Show and tell us about it here:

Cheap Jeeps


So, until next time...remember to always know what is at the top of the next hill...lest ye end up at the bottom of a cliff.

Larry




Get your Jeep's repair manual or a fun Jeep book...the cheapest Jeep book deals are at Jeep Books Plus.



***Please Remember Our Service Men and Women in Your Prayers! You Can Help Support the Troops in Many Ways. Here are several Military Support Websites.***




***P.S. Don't forget to get your Jeep photo and story...new, used, beater, project or in any other condition...on the Love of Jeeps website by submitting yours here: Your Jeep Page...and I will consider it for the website.

Let me know what you think about anything Jeep related by contacting me anytime.

***P.P.S. Don't miss anything new on the 4 The Love Of Jeeps website by subscribing to the RSS and Jeeps Blog feed here: RSS/Jeeps Blog



---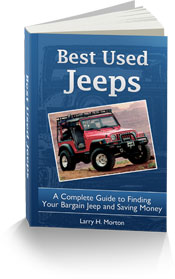 Simple to Download ebook Covers Nearly Every Jeep Found In The Used Marketplace. The Easy To Follow Guide Will Give You The Ability To Know The Differences, Good and Bad, Between Jeeps of Almost Every Model and Year.

No Bull Solid Info For Jeep 'newbies' And 'veterans' Alike!

***Hurry! Special Low Price for Newsletter Subscribers (over 33% lower than the already LOW sales price)***

Best Used Jeeps Guide...More Info!










---
Times are tough. Build a business the right way online. This is the real thing.

I use it to build my website, and I am so convinced that I invite you to Contact Me and I will tell you anything you want to know..with no hype....Larry