Isn't she a beauty? My '94 Wrangler YJ
by Steve (aka) YJ Bantum
(Las Vegas, Nevada)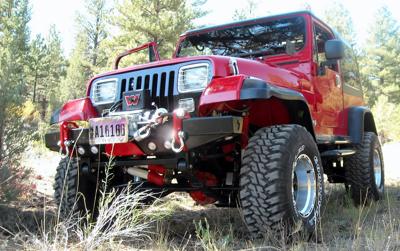 My '94 YJ
This is my '94 Jeep Wrangler YJ/SE. I bought it new in '95. It is a 6 Cylinder with a 5 speed stick. It has 125,000 miles now, and I've been adding to it slowly through the years. It's my everyday driver and my go anywhere vehicle.


It has a 5.5 inch 4WD hardware lift, 1 inch body lift, 15x10" ultra wheels with 33" tires, under-carriage and rear corner panels are completely armored with 3/16" powder-coated plate steel.
CV rear drive shaft and slip yoke eliminator.
HD steering rods,red polyurethane bushings and bump-stops everywhere.
XRC Racing seats with custom matching rear seat.
Momo Sabrano racing steering wheel with matching gear and stick-shift knobs, and twin sun-roofs.
Under the hood.... whoa! Where do I start? Borla exhaust system, K&N cold air intake. Griffin dual-core aluminum Radiator with thermo-dynamics 3000CFM electric fan, red top Optima battery and on and on and on.
Oh ya.... the Pioneer Premier stereo system, 4 Infinity component mid-range and 4 tweeters, powered by a Kenwood 800W 4 channel Amp. Also with a 12" 1300W Pioneer Premier Sub-woofer powered by an Alpine 650W Mono-block Amp. All connected by 4 gauge through gold plated splitters to 8 gauge wiring.
There is a long, long list of extras but it would take a week to name them all. I also have a small list of must have items still on their way. I don't think I'll ever be done, And the beauty is... I did it all myself.
It's therapeutic.... I love this Jeep!
Larry's Comment: You have a nice ride there Steve. She is a "beauty"! I like the fact that you have had this Jeep since it was new...and have kept it up and improved throughout the years. My hat is off to you.