Hi ,




Readers Jeeps of the Month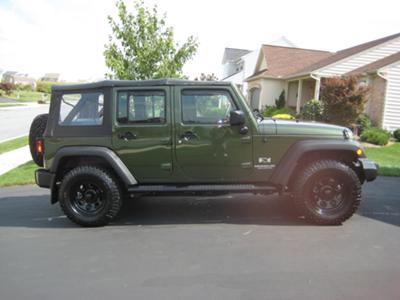 Greg's 2009 Wrangler JK Unlimited..Click Photo for More Info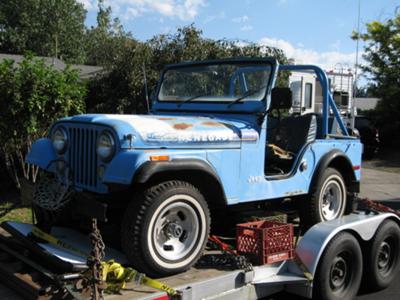 Rick's CJ5 Renegade..Click Photo to See More Info


Jerome's Mahindra CJ340...If you can read French Click the Photo for More Info


Hope you had a great Summer. And for those of you in the other hemisphere I hope you will have a great Summer (coming soon).

Unfortunately, I did not get to do the desert escape this Summer like I had planned. So many unexpected (and some expected) events took priority..like my MJ Comanche coming down with a bad case of "Clutch-itis" and having to have a full clutch system replacement done.

My daughter also got married which drained much of the Jeep bank account (including putting a hold on finding a good used Wrangler). She then proceeded to get her little finger broken on her Honeymoon and was held hostage in a Mexican Clinic for 7 hours because they demanded cash payment only. Trust me it's no fun trying to deal with a foreign country long distance.

On top of that my Comanche's alternator went out and the parts store I go to sold me a defective alternator (new) that sounded like a thrashing machine when I started the Jeep. Getting a replacement was another story that took much precious time away from driving the old girl.

Then my daughter's Trail Blazer needed repairs...and while I was trying to help get her vehicle back home a sweet little old lady ran into me damaging the left front fender.

Wow...not the kind of adventure I was hoping for...but at least everything has quieted down for now.

So what about you! Did you have any interesting Jeep experiences. If so please tell me (us) about it because if I can't get to the trails I sure would like to hear if you did. Go here and tell us all about your favorite place(s) you went in your Jeep...even if you just went for sight-seeing:

Your Jeeping Places

Include a good photo if you have one.



WHAT'S NEW at 4-THE-LOVE-OF-JEEPS HEADQUARTERS?


The website receives a lot of photos and stories from readers who are rightfully proud of their rides no matter what condition they are in at the time.

The bulk of the submissions are from Wrangler, CJ, XJ Cherokee and Grand Cherokee owners which is understandable since these are the most common Jeep models out there.

This got me to thinking (a scary thing I know) that even though I received a smattering of submissions from owners of Libertys, Commanders, Patriots and Compass models few if any included photos of their Jeeps with the stories. I know that these particular models often get bad reviews (even from me at times)..but they are still Jeeps and you owners out there are as proud as most Wrangler folks are.

So I am including the links here so that if you have a Liberty, Commander, Patriot or Compass (or know someone who might want to get their ride recognized) please send a description AND a photo. Stock Jeeps are encouraged as well as those with mods.

Jeep Liberty

Jeep Commander

Jeep Patriot

Jeep Compass

Once accepted I will put your Jeep story and photo up on the website for you.

If you have any questions or comments you can Contact Me anytime. I always want to make this website better for you and could not do so without your genuine input and support. Also, feel free to pass this Newsletter on to your family and friends so we can keep the Jeep Lover's Community alive and always in gear.

So until next time remember...Your dog should roll over..NOT your Jeep.

Larry




Times are tough. Build a business the right way online. This is the real thing. I use it to build my website and am so convinced that you can Contact Me and I will tell you anything you want to know..with no bull....Larry