Jeep Commander vs. Jeep Grand Cherokee!
| | |
| --- | --- |
| | |
| 2010 Commander | 2010 Grand Cherokee |
| | |
| --- | --- |
| | |
| 2009 Jeep Commander | 2009 Grand Cherokee |
Give us your take on the Commander
***Tell us what you think?***


Alright..I'll be brutally honest! The Jeep Commander doesn't do a whole lot for me.



Not that it isn't a pretty nice SUV and all that, but it's...well...another compromise SUV designed to capture some of the family hauling, kid shuffling, people moving market.
I thought the Jeep Grand Cherokee served that niche quite well...and it does. However, in the ever growing SUV automotive marketplace, competitive manufacturers seem to have a compulsion to try and please every consumer's needs and desires..almost to a fault.
The Jeep Commander was introduced in 2006. It is built on the same platform as the Grand Cherokee and shares most of the Grand Cherokee's standard and optional features including engines and drive trains.
They both have the same wheelbase and track, with the Commander being slightly larger in the exterior.
1984 Jeep Cherokee Chief


Commander..Grand Cherokee..or..?
What Jeep has Your Name on It?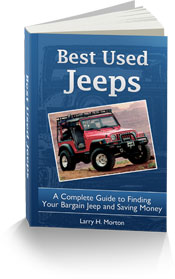 The "boxy" look of the old Cherokee XJ is back, but the Commander, and to a lesser degree the Grand Cherokee don't seem to have the same "Jeep" look and feel as the old style Cherokee XJ.
There are some significant differences in the Commander and the Grand Cherokee. The Commander has a third back-seat allowing for more people toting (seats 7), while the Cherokee can only haul 5.
Being that both vehicles are essentially the same in most all of their respective dimensions, something had to be sacrificed to get those extra two people into the Commander.
You guessed it!...Cargo Space.


The Commander with a full load of passengers has minimal space available for such things as luggage, groceries, sports equipment, tools, or whatever else someone might want to haul around. However, with the third seat folded down you could still carry up to 5 passengers and have plenty of cargo space.
But......then you basically have a Grand Cherokee, at least in functionality. (The second seat can also fold down in both vehicles for more cargo space and again, less people carrying).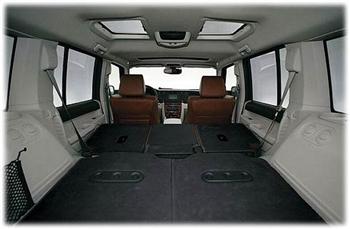 Lots-O-Cargo Space in the Commander
with All Rear Seats Folded Down


So, it seems to my little brain that you have a bit more versatility with the Commander than with the Grand Cherokee, because you have a choice between more passenger space and at least equal cargo space.
Both come in two-wheel drive or optional 4-wheel drive models (independent front suspension only) with several increasingly more expensive package options available. They are roughly comparable in price all the way from base price to "all-the-bells-and-whistles" price.

My personal rather disinterested view of the Jeep Commander and the Jeep Grand Cherokee is that neither one is exactly my cup of tea...but...who knows?...they might grow on me in time.
Especially if they come equipped like this Commander.....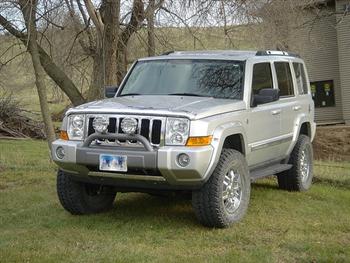 After all....they're still JEEPS!



Note: The 2010 Commander was the last year for this model in the Jeep new vehicle line-up when its production was discontinued.



What's your take on the Jeep Commander?
***Tell us about your experiences***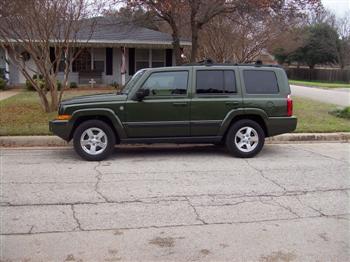 Andrew's 2007 Commander...(click on photo for more info)


---
What Do You Think
About the Jeep Commander?


Do you currently own, or have you ever owned a Jeep Commander?

Tell us about your experience with the Commander...good..bad..or indifferent.

Describe your Commander in detail and include a photo (up to 4)

How do you (or did you) use your Commander (i.e. daily driver, exploring off road, camping, family SUV, etc.)?

Would you recommend the Jeep Commander to others? Why or why not?

Thanks!
What Others Have Said
Click below to see contributions from other visitors to this page...

Jeep Grand Cherokee Page!

Jeep Cherokee Page!

Jeep Patriot Page!

Jeep Compass Page!





Custom Search
Doing a site search is the easiest way to find specific info on my site

(Return to Top of Page..Jeep Commander)
Home|About|Site Map|Contact Me|What's New?|Disclaimer
Hi, this is Larry..the author of this website. I know you hear a lot about how to build an online business...but nothing compares to what you will see when you click the box below. Proven simply the best!