Hi ,



What are some major things that your Jeep must have, to do what it was designed to do? A well tuned engine? Yes. Well lubed and straight drive train? Yes, again. Tough and aligned suspension? Absolutely.

However, none of these important systems can work without good tires to put the power to the ground. Books could be (and have been) written on the vast variety of tire types, tread patterns, sizes, materials, etc.

I would like to talk a little about one set of tires in particular. The BF Goodrich All Terrain T/A KO tire is one of the most popular tires used on Jeeps and other 4x4 vehicles and trucks. I have a set of 33/12.50/15 BFG T/A KO's mounted on my '95 Wrangler including the spare.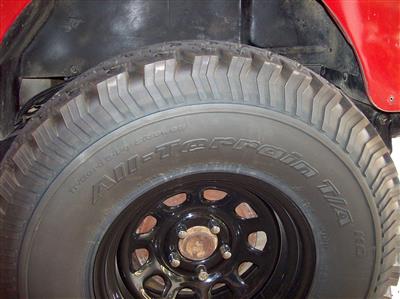 There are a lot of "All Terrain" tires out there from a variety of manufacturers, but BFG has dominated this market because of great quality materials, superb tread pattern (even on the sidewall for better grip in the sloppy stuff), and an edge of rubber extending past the outer wheel rim to help protect the wheel from rocks and debris.

This set of tires is the best compromise for both street and trail use. It rides smooth and quiet on the pavement, and bites well in the mud, sand, ice, and in the rocks. Choose whatever tire you want and need, but if you want a tire with it all this is the way to go. Oh...and you the prices of these tires are some of the lowest I've seen anywhere.


Now, let's take a look at:


Your Jeep Rides, Rigs and Rebuilds!
(Find Out How to Show off Your Jeep! It's Easy!)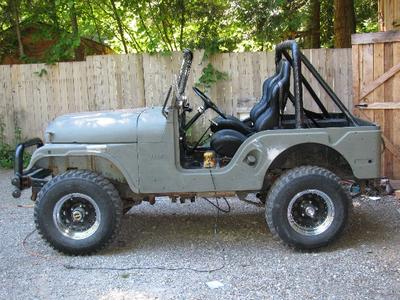 Mikey's 1970 CJ5 Renegade I...(click photo for more!)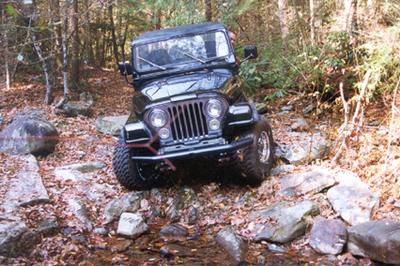 Nice 1981 CJ8 Scrambler...(click photo for more!)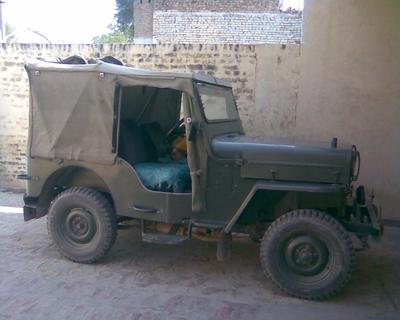 Sandeep's 1955 Willys CJ3B...(click photo for more!)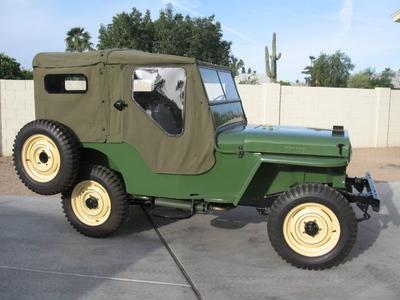 Roger's 1946 CJ2A...(click photo for more!)



Kyle's 1980 CJ7 with Peugeot Diesel...(click photo for more!)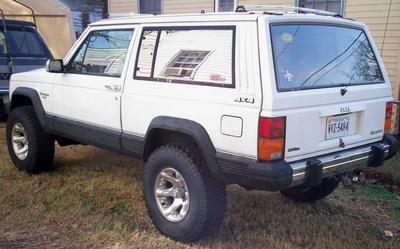 David's 1989 Cherokee Laredo...(click photo for more!)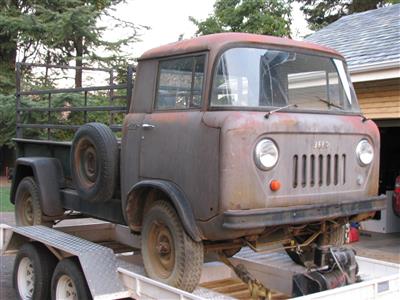 Dirk's FC170 Forward Control Jeep...(click photo for more!)



Jeep Tip of the Month...
Make Your Own Door Entry Guards


Getting in and out of your Jeep Wrangler or CJ can take a toll on your bottom door frame, especially if your Jeep is lifted. Climbing into a Jeep tub often requires stepping on, or scraping the lower door frame until the paint is worn and scratched.

The solution is to buy a set of commercial entry guards starting at around $20.00 and up.

Or, you can do what I did and make your own. Let me back up a bit first. I did purchase a set of flimsy aluminum self sticking guards and put them on, but they kept snagging on my shoes when I exited the Jeep. When I went to remove them the sticky 2-sided tape would not come completely off even with a heat gun and "sticky stuff" remover. I finally had to sand down the area to remove the offensive tape material. This of course then required repainting the entire area where the guards once resided.

Moral: stay away from anything with 2-sided sticky tape.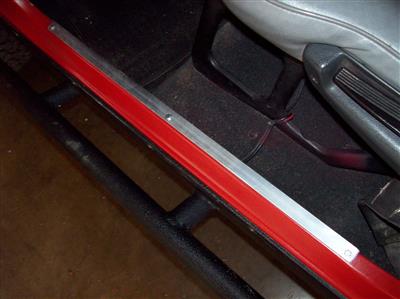 I then put my thinking cap on ( the one with the propeller on top) and came up with an idea that might solve the problem. I made my own door entry guards out of thin but solid aluminum angle. I used 3 small easily removeable nuts and bolts on each door... and about 1" x 1" aluminum angle (your size may vary).

The entire project cost a total of about $6.00 and works beautifully as well as looking pretty sharp too. And the best part...NO STICKY TAPE.


Jeep Trivia: The CJ5 was introduced in 1955 followed by the CJ6 about one year later.


Your Thoughts: There seems to be a ton of news recently regarding Jeeps, new and old. Give us your opinion on anything about Jeeps in the news, or just share your own opinions about the direction of the Jeep brand.

Jeep News


So, until next time remember to...roll down the window..before you spit out your gum.

Larry



Sell Your Jeep Here



Get your Jeep's repair manual or a fun Jeep book...the cheapest Jeep book deals are at Jeep Books Plus.



***Please Remember Our Service Men and Women in Your Prayers! You Can Help Support the Troops in Many Ways. Here are several Military Support Websites.***




***P.S. Don't forget to get your Jeep photo and story...new, used, beater, project or in any other condition...on the Love of Jeeps website by submitting yours here: Your Jeep Page...and I will consider it for the website.

Let me know what you think about anything Jeep related by contacting me anytime.

***P.P.S. Don't miss anything new on the 4 The Love Of Jeeps website by subscribing to the RSS and Jeeps Blog feed here: RSS/Jeeps Blog



---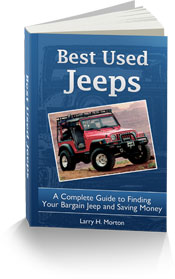 Simple to Download ebook Covers Nearly Every Jeep Found In The Used Marketplace. The Easy To Follow Guide Will Give You The Ability To Know The Differences, Good and Bad, Between Jeeps of Almost Every Model and Year.

No Bull Solid Info For Jeep 'newbies' And 'veterans' Alike!

***Hurry! Special Low Price for Newsletter Subscribers (over 33% lower than the already LOW sales price)***

Best Used Jeeps Guide...More Info!










---
Times are tough. Build a business the right way online. This is the real thing.

I use it to build my website, and I am so convinced that I invite you to Contact Me and I will tell you anything you want to know..with no hype....Larry