My Two Rare Jeep Trucks in South Africa
by Dirk
(South Africa)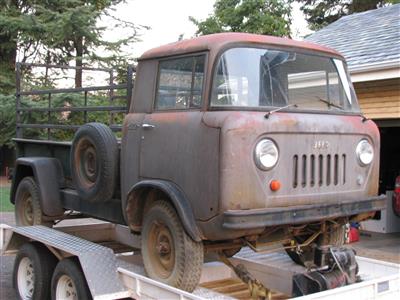 My FC170 original and running
Hi Guys,


I am from South Africa, and I think I do own 2 of the rarest Jeeps around.
One is a Jeep FC 170 (Forward Control) still running and as far as I know it is the only one in South Africa that is still in original condition. I'm not sure if I want to keep it original or, like we say here, enhance it a bit.
I also just got my hand on an original Jeep CJ8 Scrambler still in its original colours. Even the air conditioner is still working.
Both of these Jeeps are left hand drives, and I guess they were direct imports as none of them were freely available here.
Would like to know how many are still alive and in original shape?
Dirk...you have 2 very nice Jeeps there.

I don't know how many of these fine Jeeps (especially the FC150 and FC170) are still out there alive and running.

I do know that the CJ8 Scrambler is a high demand vehicle for collectors and builders alike..and the prices I've seen reflect this supply and demand theory as the Scrambler (in good to excellent original condition) can fetch a significant chunk of change.

The Forward Control Jeeps are really becoming quite rare, especially in original and complete condition. Body parts and replacement glass are very difficult to find, especially due to the Jeep's unique shape and style.

Please keep us informed of any upgrade, rebuilds or additions to your rare Jeeps. Thanks.