My Ghost Dog '89 Cherokee Laredo
by David Light MM1 (Ret)
(Richmond, VA)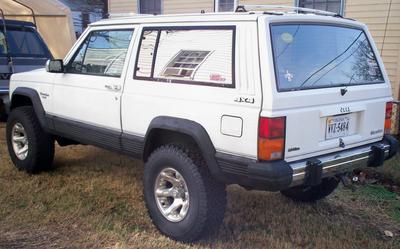 My Ghost Dog
I just picked up an 1989 Cherokee Laredo for $500.00.


It has the 4.0L six, AW4 automatic, NP242 Selectrac transfer case, Dana 35 axles, 2" Rough Country lift kit and 31x10.50/15 BF Goodrich All Terrains.
I had to replace ball joints, track bar, lower control arm, 2 tires, front hub assemblies, pads and rotors, turn signal switch and a couple of light fixtures. In progress is a new brake booster/master cylinder, defroster fan and an exhaust manifold. That should let me pass the state inspection.
This will be my daily commuter when I'm not on my bike. I hope to find a 4 wheeling club near Richmond, VA to get out on the weekends.
Larry's Comment: Hey David...that's a nice looking 2-door Cherokee XJ you bought for a steal.

These are the best bargain used 4x4 Jeeps around, and you just scored one at a great price. Congratulations!