1981 Jeep CJ 8 Scrambler

(Tennessee)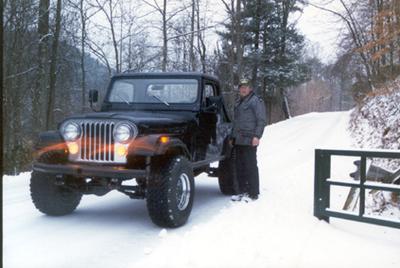 This stock, pristine, and rust free 1981 CJ-8 Scrambler was bought in Glendale, California and shipped to Atlanta, Georgia for modification. The modification order was "build it like it was going to be on the cover of a Four Wheel Drive Magazine".


This Jeep comes with an "Owner's Manual" for the modifications made. It consists of a large three-ring binder in which the box covers of most of the components are pasted and some comments. It is not complete, but has been used as a valuable guide for maintenance.
He liked the fact that the computer operated the gas on its own, sorta' like a good horse, but it was the little things the builder did that impressed him most. Rhino lining inside the cab with wing nut secured washers to open and drain the cab. Quick release handles from mountain bike wheels installed on the mirrors so that the mirrors could be quick released in tight situations. Toggle switch to cut on and off the auxiliary fan on the motor. Custom swing design tail gate spare tire mount for easy access to the tail gate. Custom bumpers that protect the body. Skid plates on the leaf spring mounts. Pins installed to the front axle to release the suspension to full stretch which can be re-pinned for highway driving. Emergency brake mounted on the left side of the driver's seat for quick reaction time.
Here are the modifications made to the Jeep:
Engine Mechanical:
Rebuilt engine with:
Re-built block with honed cylinders, journals ground .010 over
Re-ground crankshaft .010 under
New bearings through-out
New pistons
New camshaft, lifters and pushrods
Re-built head
New oil pump
MOPAR upgraded oil pan gasket
Studs used for oil pan fasteners
FEL-PRO gaskets through-out
ARP head studs, washers and nuts
Grade 8 hardware
New power steering pump, hoses, and brackets
New alternator brackets
Engine Electrical:
Removed all emission wiring and devices
Re-engineered and re-wired engine harness with
GM WeatherPak connectors
Electromotive JFI engine control kit with
Throttle body fuel injection
Electric fuel pump
Direct fire ignition ( no distributor )
Thermostatic control for electric fans with:
Temperature sensor in intake manifold water jacket
LED "fans on" indicator with diodes to prevent indication with fans off.
Manual on-off switch.
New starter and starter solenoid.
All new battery and starter cables
Custom relay panel with:
Fuel pump relay
Intake manifold heater relay
Electric cooling fan relays
Battery, ignition on, and ground terminals
Fused power supply
Autometer tachometer
Drivetrain:
New bell housing
New clutch
New stock type clutch linkage bell-crank and pivots
Stainless steel Heim joint type clutch linkage rods and pivots
New Process 435 transmission with
Compound ( granny ) low gear
Novak 433 adaptor to Dana 300 transfer case
Cooling System:
New water pump
New radiator
New hoses through-out
Removed engine driven fan and shroud
Dual electric fans with custom mounting bracket
Custom coolant expansion tank and bracket
Exhaust System:
Borla stainless steel tuned header
Custom stainless steel exhaust header flange
Custom stainless steel exhaust pipes
High flow catalytic converter
Borla stainless steel muffler
Axles:
Later model ( wider ) Dana 30 front axle rebuilt with
3.73 gears
Warn one-piece hub kits
Stock rear drive shaft custom re-built for use as front drive shaft
Currie custom built Ford 9 inch rear axle with
3.73 gears
Detroit Soft Locker
Explorer disc brakes
Six States custom rear drive shaft with
Double cardan type constant velocity joint with matching yoke on transfer case
Rubber boot on slip joint
Front Suspension:
Rancho RS 5000 shock absorbers
JKS anti-sway bar disconnects
Currie greasable shackles
Mountain Off Road Enterprises shackle reversal system
Rancho leaf springs ( 2.5 inch lift )
Currie U-bolt skid plates
Custom shock towers ( for increased travel with modified front axle )
Custom extended bump stops
All new steering linkage parts ( drag link, tie rod, ends )
Currie steering box stabilizer brace