1949 Willys Wagon My First Car
by Jeepster 4
(Hollywood)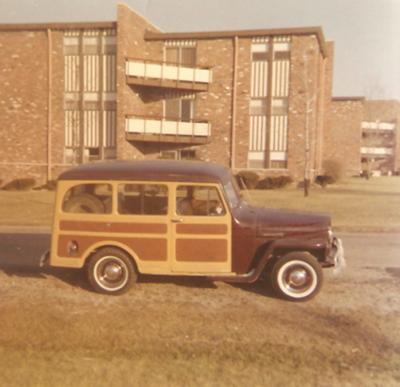 I bought this wagon in Indianapolis in 1971 while a Junior in high school- for $220- Three tone, 2-wheel drive.


I remember turning on the huge tube radio in it, driving it home at 21st and Ritter and "Craklin Rosie" came blaring out the speaker. "We gonna ride 'till there ain't no more to go, taking it slow."
It had a top speed of about 50 MPH, and kept leaking coolant and overheating. Dad and I put some oversized bolts on the head to cure it. My grandfather, a coal miner in Pennsyvania had had a Willys pick-up we used to ride in the back down into town, and I had fond memories of that.
Mine was an all original slightly rusted 4-banger. I cut some panelling to refinish the interior of the doors. It had the foot starter, and a three speed "on the tree" shifter.
It was a thrill to drive it to school, and different from anything the other kids had. I had it for a couple of years and had to sell it when I went to college. I sure hated to part with it.
Several years after that I was on a long bike ride in southern Indiana, and there she was in a parking lot in Nashville, IN. Haven't seen it since.
Here's some pictures with me, from high school Bolton Avenue, Indianapolis.
Larry's Comment: Who can forget those memories of our first car?

If you had your '49 Willys (Woody) Wagon in California at the time, I can envision a surf board strapped to the top headed for the ocean side with the Beach Boys music blasting from the big tube radio.