Support The Troops!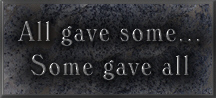 ***Tell Us How You Support the
Troops (U.S. and Allies)***


Why should I or anyone else support the troops in their perilous endeavors?
It's almost a shame to even have to justify such an obvious position.
However, this being a website about Jeeps, the Military origins of this icon compel me to write about my deep appreciation for the blessed freedoms afforded me by those who have voluntarily chosen to risk their lives... so that I and others may continue to be free.
It is irrelevant whether anyone agrees politically or otherwise about the efficacy or necessity of Military action. The bigger picture is that when our brave men and women ARE involved in confrontation with an enemy, WE must do everything in our power to give them what they need to survive and to succeed.
That includes our support as well as the necessary supplies, weapons and tools.
How demoralizing it must be for our soldiers to willing give their lives for their country, and to think that the very people they are fighting to protect do not support them.
Worse yet, those very same people may be engaged in mindless political posturing by openly protesting our involvement in a conflict...which ultimately energizes the enemy while demoralizing our side.
Do they have that right? Of course they do! The very same military they protest help to preserve that right.
However, there is a greater good involved in looking beyond personal "rights"...and that is...doing what is right.
Many have good intentions in their open protests, and can readily justify their beliefs and actions.
Nevertheless, I believe that this ultimately puts our troops in even more peril, again by energizing the enemy and weakening our side's resolve.
Terrorists don't care what you believe in; or who you vote for; or who you are; or how much you want peace; or, anything else for that matter.
They want to destroy you, your children, your family, friends and acquaintances simply because you are not one of them, or follow their ideology.
So...yes I am passionate about my desire to have all of us support the troops...or at least not add to their already dangerous missions. I have lived long enough to see what evil can accomplish if not thwarted.
Most of us will never forget those two numbers etched into our brains early one September morning...9-11...nor should we.
So, my simple prayer is that God will bless all of the troops (U.S. and Allies) fighting to protect freedom. May they all return home safe and victorious knowing that a grateful people appreciates and supports their bold and brave efforts.
Please support the troops. Our futures depend on them.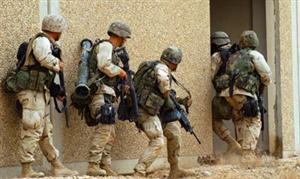 To learn more on how you can Support the Troops ...Click Here!

Learn About the National Museum of the Pacific War in Fredericksburg, Texas Honoring Our WWII Veterans!
---
How Do You Support the American and Allied Troops?
Tell us in your own words how and why you support the troops fighting world-wide terrorism.



Are you active, reserve, ex or retired military (what branch)?

Do you have a relative, spouse or friend who serves (or previously served) in the U.S. or Allied military?

Share a story about yourself and/or your association in any way with our brave troops.

Include a photo (optional) if you have one.

Thanks
What Other's Have Said
Click below to see contributions from other visitors to this page...

---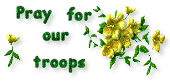 Iraq Up Close And Personal is written by an American civilian contractor who spent 5 years in Iraq, Afghanistan, and the Middle East during the 2nd Gulf War. This site is a valuable guide for those who want to work and/or travel in that part of the world. See descriptions of bases, airports, and jobs. Also great for families of military who are stationed there, and it gives how-to info on sending care packages and communicating with loved ones.

Are You a Patriot?...find out...click here!

Willys Jeep Page!

Army Jeep Page!

A Bit of Jeep History in the Korean War.

See the Jeep J8 MPV...the New Military Jeep!





(Return to Top of This Page...Support the Troops)