Jeep Gladiator Concept Pickup: Build It And They Will Buy It!
Is the Jeep Gladiator Concept Pickup (or any Jeep pickup) going to get the nod from Chrysler/Jeep, or will the prototype be just another model in a fairly long list of never produced concept Jeep ideas?
Hint:...It's been done. Scroll down to the "update" below:




What does it take to get Jeep to approve consumer available production of this concept Gladiator?
Granted, every automaker has come up with "concept" ideas/prototypes that never reach production...some for good reason ..while others are uncertain. See and read more on various Jeep Concept Vehicles.


This could be due to several factors such as:
excessive cost of production;
limited sales potential;
the amount of competition in that particular style/model;
a general depressed economy;
current gasoline prices (for some models with potential poor mileage figures);
and finally...poor public response or excitement.
Okay...then let's look at the Gladiator in light of the above listed factors.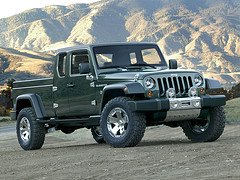 Excessive Cost of Production
The Jeep Gladiator Concept pickup will share most of the components of the already successful Wrangler Unlimited.
Therefore it would seem to be quite cost-effective to build the Gladiator having most, if not all of the parts available off-the-shelf, and little or no re-tooling/fabricating required. Compare this with the "extreme" Jeep Hurricane Concept Vehicle also introduced in 2005!


(Compare the Jeep Gladiator with the Wrangler Unlimited here.)


Limited Sales Potential
Based on the huge demand and reaction to the Wrangler Unlimited, it would be a logical leap to expect at least a similar reaction to the Gladiator Pickup.


2011 Jeep Wrangler Unlimited


It should be noted here that Jeep historically has not done so well in the Pickup Truck sales arena, especially when compared to the three big Pickup manufacturers...Ford, Chevrolet and Dodge.
However, Jeeps have always been a unique breed with a unique niche market, and really should not be compared with the same criteria as other truck brands.


The Amount of Competition in That Style/Model
Nothing in the truck marketplace today can compete with the Jeep Gladiator Concept Pickup... in my humble opinion...because it is in a class by itself. I often refer back to the Jeep "mystique" and Jeep heritage/history which sets all traditionally styled Jeeps apart from anything else available. Maybe you think I have a biased viewpoint..and you would be partly correct..however, I challenge anyone to name a comparable vehicle.
A General Depressed Economy
This particular factor could potentially affect the launch of any new vehicle. The lower end vehicles already available would usually do best during a weak economy.
Current Gasoline Prices
Rising gasoline prices typically hurt the sale of vehicles with low gas mileage figures. However, since this has become a reality with no break in sight, auto manufacturers are frantically designing new engines with vastly improved economy.
The Jeep Gladiator reportedly would have been available with a 2.8-liter turbo-diesel 4-cylinder, or the Wrangler's earlier 3.8-liter V6 (or newer 3.6L Pentastar V6). Gas mileage figures would expect to be comparable to those of the Wrangler with the V6 motor, but the 2.8L (4) turbo-diesel engine would prove more efficient.
On-pavement fuel efficiency in Jeeps has been steadily improving, but one should also consider that there is a trade-off with certain Jeep models and their unique off-road capabilities, which naturally reduces gas mileage figures under those more extreme circumstances.
Finally...Poor Public Response or Excitement
It appears that through my research (and my personal opinion) the Jeep Gladiator Concept has good public support, and is one of the most exciting Jeep designs...with the Wrangler 4-door Unlimited...to come along in quite some time.
Why?...you might ask!
Well, here's a new truck concept which:
will seat 4 people;
has an extended wheelbase which increases safety and functionality;
has a cargo bed four-feet wide by five-feet eight inches long which can be extended to eight-feet eleven inches with the tailgate down and the mid-gate moved forward against the folding rear seat (into the cab ala Chevy Avalanche);
has a third door on the passenger side for ease of entry to the rear seat;
has a small lockable tool storage door in front of the rear wheelwell;
and, has the spare tire conveniently mounted to the side of the truck "old-school style".
So...will Chrysler/Jeep finally stop teasing us with this fine looking new pickup and let "We the Public" decide, or will it fall on the ash heap of many other great automotive ideas?
What if Ford had never gone through with the Mustang, or Chevy never created the Corvette? I suspect the designers and executives at the time had no clear idea as to how the public would respond to those two radically different (for the times) "Concepts".
I think Jeep has a true winner in both the Wrangler Unlimited and the Jeep Gladiator Concept ...or similar production Jeep pickup truck.
Note: American Expedition Vehicles (AEV) is an aftermarket manufacturer that has conversion kits available for the Jeep Unlimited. Their "Brute" pickup conversion is quite nice and can be assembled on your Jeep yourself, or AEV will do the assembly, as well as some Jeep dealerships.
These conversions are quite pricey at this point. The cost to the buyer, however, could be much less if Chrysler/Jeep manufactured a complete pickup in its line of Jeep vehicles.
What do YOU think?



UPDATE!!UPDATE!!: They finally did it! Introduced to the buying public in 2019 here is the Jeep Gladiator JT Pickup:
The "Red Rock Responders" Jeep Concept Pickup shown at the 49th Easter Jeep Safari in Moab Utah.



Also, check out the Jeep concept pickup truck...JT...by clicking here!

Jeep Wrangler Unlimited Page!

Jeep Concept Vehicle Page!

Jeep Hurricane Concept Vehicle Page!

Off Road Trucks...Let's Keep These Old Jeep Trucks Alive!



Custom Search
Doing a site search is the easiest way to find specific info on my site
(Return to Top of This Page..Jeep Gladiator)
Home|About|Site Map|Contact Me|What's New?|Disclaimer
Hi, this is Larry..the author of this website. I know you hear a lot about how to build an online business...but nothing compares to what you will see when you click the box below. Proven simply the best!