Jeep Grand Cherokee: Not Your Everyday SUV!
2014 Jeep Grand Cherokee



***Click Here to Show Off Your Grand Cherokee
and See About Other Folk's "Grands" as Well!***


How "Grand" is the Jeep Grand Cherokee? And how many "Grand" are needed to own one?



At first there was only the Cherokee XJ from 1984 through 2001. Then from 1993 through 1998 Jeep included an upscale version of the XJ called the ZJ Grand Cherokee. The designation WJ Grand Cherokee was used from 1999 through 2004.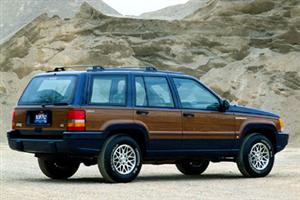 1993 Grand Cherokee Wagoneer


Even though they had more bells and whistles than the basic XJs, the ZJ "Grands" shared the same tough functionality and characteristics of its less frilled sibling.
One major characteristic shared was the solid front axles (4x4) which allowed for pretty impressive off-road capabilities, especially with aftermarket goodies to beef things up a bit. You could travel the highways in relative luxury and yet get to some remote back-country locations if desired.
Grand Cherokees are less often seen off road than most of their relatives and predecessors, however they can make formidable rigs with proper aftermarket additions including suspension lifts, bigger tires, and even body and under-carriage armor.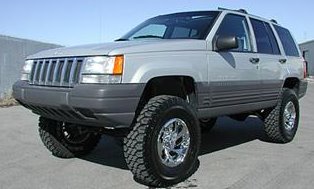 Jeep Grand Cherokee with Bigger tires and Suspension Lift


Many (possibly most) Grand Cherokees are, and were sold in 2-wheel drive versions which is a great option for those who will never or rarely end up out in the boonies. The 2-wheel drives were and still are much less expensive than the optional 4x4 versions. They are also quite popular with women, and families, or women with families, or...this is getting confusing! Let's move on.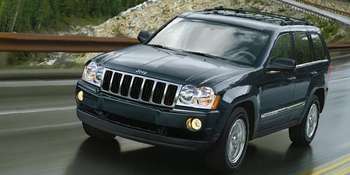 2007 WK Grand Cherokee Jeep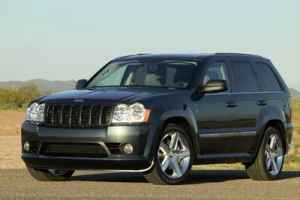 2010 High Performance Grand Cherokee SRT8


The new generation Jeep Grand Cherokee WK was introduced in 2005. This tamed down model features a 4-wheel drive system, however it is of the Independent Front Suspension (IFS) variety which lacks the off-road toughness of the near bullet-proof solid front axles. However,these IFS systems are great in most mud, snow and ice conditions, as well as mild to moderate off-road situations.
In 2011 the Grand Cherokee was built from the ground up with new technology and a boatload of features like independent front and...wait for it...independent rear suspension.
Along with the IFS and IRS suspension the 2014 model Grand for the U.S.A market is now available with a base 3.6L V6 engine, an optional 5.7L V8, and a 6.4L V8 Hemi, but will also finally have an optional 3.0L EcoDiesel V6 engine mated to a new 8-speed automatic transmission.
All of these innovations are wonderful and very appealing to many, but with absolutely no solid axles to be found anywhere on this pinnacle of Jeep excellence and finery, I am left underwhelmed from an off roader's viewpoint.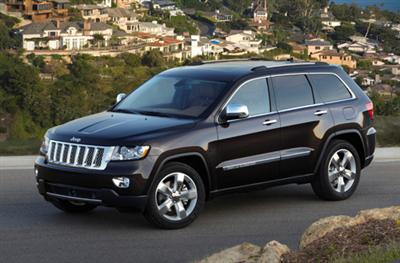 2011 Jeep Grand Cherokee Overland Summit


The new generation "Grands" have become more "European plush" with technology that would make Bill Gates do a "happy dance", but tend to leave true Jeep lovers wondering what happened to the Jeeps we remember...tough off road capable machines...and most of all easy to fix by ourselves on or off the trails.
But...who really cares about off-road capability in a vehicle that starts around $30,000 base price for a new 4x4 model, and can run upwards to over $63,000 for the fully optioned version. If you can afford to light your campfire with $100 bills, it's probably no sweat. You could even afford a chauffeur to drive your rig to the trail head.
Personally, I would be scared to death of getting a cactus scratch on the door panel, or having a rogue raccoon poop on the luggage rack.
All kidding aside, the newer Jeep Grand Cherokees are very nice vehicles...for sophisticated city dwellers that will rarely see anything other than pavement.
An older Grand Cherokee with solid axles front and back?
Now that's another story.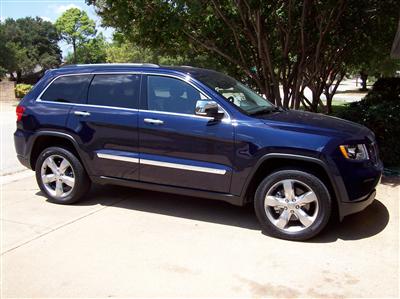 Bill's 2012 Grand Cherokee...click photo for more info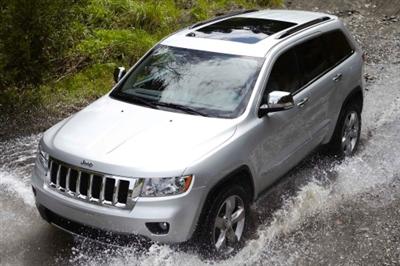 2013 Grand Cherokee



Jeep Cherokee XJ Off Road Page!

Take a look at this Jeep Lover's Orvis Edition Grand Cherokee!

Looking to buy a brand new Jeep Grand Cherokee (or any new vehicle for that matter)? Then, learn a few tips on how to buy a new car by clicking here!

Not ready for a new Jeep? Then see tips on how to buy a used one.

Cheap Jeeps: How and Where to Find Them!



Custom Search
Doing a site search is the easiest way to find specific info on my site