The Jeep CJ: Civilian Jeep Extraordinaire!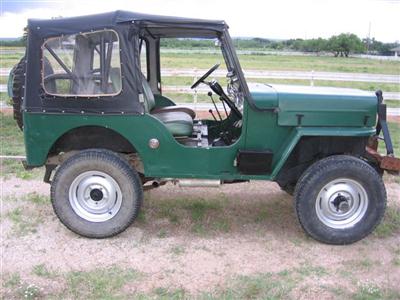 1954 Willys CJ3B


Do You Have a 1945 to 1986
Jeep CJ Story to Tell? Then Click Here!
Why did the post-war CJ Jeep become a necessity and/or dream of farmers/ranchers, miners, explorers, campers, enthusiasts, off-roaders, or simply residents of inhospitable climates?



The CJ (Civilian Jeep) series began in mid-1944 with the CJ1 which was an upgraded military MB (only two of these were actually built for testing purposes), followed by the CJ2 from 1944-1945.


(Read a bit more on the CJ1 and CJ2!)


These were flat-fendered models similar in appearance to the Willys MB models of WWII distinction. However, Willys upgraded these "civilian jeeps" after the war to be more agreeable with civilian users.
Restored CJ2A

(Read more about the Willys CJ 2A..a top collectible!)


The first early Willys Jeep CJ's were designed and rigged mostly for agricultural use and "field work" on farms and ranches.
The CJ's were designated and built as such:
(Was there really a CJ4?...Click here to read more!)




The CJ's were built simultaneously with a number of military Jeeps during the 1950's such as the:
M38, 1950-1952
M-38A1, 1952-1957, and the
M-170, 1953-1957
These early CJ's and military series have become highly sought after by collectors, restorers and updaters (fancy name for hot-rodder's).


Speaking of hot-rodding old Jeeps, I once had a 1953 M38A1 with the Dauntless Buick V6 engine, original drive train (geared VERY low), big tires/wheels, new sky blue paint with racing stripes, roll-bar and a few other upgrades. Wow! What a ride.
Sorry... I digress. More on my Jeep later.
Original and aftermarket parts and accessories for early CJ Jeeps and 1950's M Series Jeeps are available for restorations on a limited basis and require some searching to find certain items.
Dan's 1979 CJ5.."The Taz"..click photo for more!


The Classic Jeep CJ Style Emerges.
The year 1952 was a pivotal year for the CJ Jeep models. The Military M38 Jeeps retained much of the old Willys WWII styling as did the CJ2A, CJ3A, and CJ3B especially with the distinctive flat front fenders. This "flat-fendered" CJ style was built into 1964.

Then, also in 1952, the Military M38A1 (1952-1957) model was introduced which became the standard style for the CJ5 in appearance and features with one of the biggest changes being the rounded front fenders.
The CJ5 (1955 through 1983) and to a much lesser extent CJ6 (1955 through 1976) model Jeeps became an unprecedented four-wheel drive icon for a particular brand and model classification.


(Click to see more on the long-lived CJ5 Jeep!)

(Compare the longer CJ6 Jeep by clicking here!)

(See more on the innovative and safer CJ7...click here!)

(The CJ5 and CJ7 each had a hot V8 option package called the Renegade...click here!)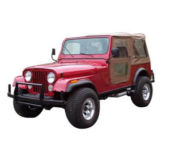 All in all the CJ designated Jeep models persisted with their rugged reputations for an astounding 42 years from the original CJ1 through the CJ7 and CJ8. The Jeep CJ run ended in 1986 being replaced by the Wrangler from 1987 on.


(Click here to learn more about the unique Jeep Scrambler CJ8 pickup!)


So why did the civilian CJ become a necessity and/or dream of so many? The answer is quite simple. These rugged little work-horses provided a tough, durable, reliable and utilitarian platform which allowed us to go places and do things we could not imagine otherwise. That's it!


Beautifully Restored '79 CJ5...Click on the Photo to Learn More..or..Add Your Own CJ Story Below


---
The Willys, Kaiser, AMC Jeep CJ
Do you own a CJ Jeep model from 1945 through 1986? If so then:



Describe your CJ in as much detail as possible



What do you like or dislike about your CJ?



How do you use your CJ?



Include a photo of your CJ (up to 4 photos accepted)



I for one (among many) would love to hear your CJ stories...and see your CJ photo(s).
Thanks
What Others Have Said
Click below to see contributions from other visitors to this page...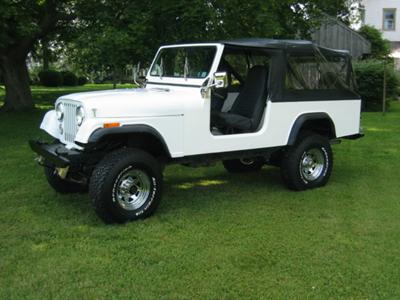 Clair's Restored 1981 CJ8 Scrambler...Click Photo for More Info!



Jeep CJ2 Page!

CJ2A Page!

CJ3A Page!

CJ3B Page!

The CJ4 Jeep Page!

The CJ 5 Jeep Page!

The CJ6 Jeep Page!

The CJ7 Jeep Page!

Jeep Renegade Page!

The CJ8 Jeep Scrambler Page!

The CJ10 Jeep Pickup Page!

What Followed the CJ? The First of the Wrangler Series...the YJ of Course!

Postal Jeep DJ's and FJ's Deliver

Jeep Models: A Chronological History Page!

Are CJ and Wrangler owners Stuck Up? Find out!

Wild Italian Stallion! Cristiano's Hot 1978 CJ7



Custom Search
Doing a site search is the easiest way to find specific info on my site
Home|About|Site Map|Contact Me|What's New?|Disclaimer
Hi, this is Larry..the author of this website. I know you hear a lot about how to build an online business...but nothing compares to what you will see when you click the box below. Proven simply the best!