Funny Lists: Starring Jeeps!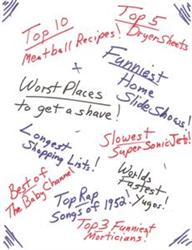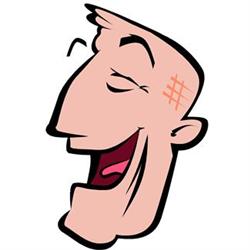 Funny lists have been used by comedians and story tellers since the first person laughed at another guys story...and that just encouraged more funny stories, jokes and lists.

David Letterman, Jay Leno, Conan O'Brien and others have made a living using funny lists as part of their comedy shtick.

Everybody likes the "best of", "top 10", "the most", "the least", "the biggest", "the worst"...and so on...and so on.

Well then, what about funny Jeep stories, Jeep jokes, Jeep tales and Jeep humor? After all, this is a website about Jeeps isn't it?

So I came up with some humorous lists of my own about Jeeps. Disclaimer: Please, no heckling, booing or hissing. I never claimed to be a comedian.

However, I did go to my psychiatrist the other day and he said "You're mentally unstable"...so I said I want a second opinion...and he said "okay, you're ugly too!" (rim-shot)

Anyway, here goes nothing. Click on any link below that your little heart desires.

Oh, and if you think you can do any better go ahead and send yours in. Just use the form on the bottom of each page.

If your addition to any list is appropriate, clean and most of all funny, then I will publish the best ones sent with credit going to (you) the submitter...so don't forget to at least include your first name.


Top 5 Signs You Have Jeep Fever!


5 Things Jeep Wrangler Owners Should Never Do!


Top 5 Things Jeep Cherokee Owners Might Say!


Top 5 Reasons Guys Own A Jeep CJ!


Top 5 Reasons to Have an Automatic Transmission in Your Jeep!





(Return to Top of This Page...Funny Lists About Jeeps)
Home|About|Site Map|Contact Me|What's New?|Disclaimer
Hi, this is Larry..the author of this website. I know you hear a lot about how to build an online business...but nothing compares to what you will see when you click the box below. Proven simply the best!