Jeep Wagoneer: The First SUV?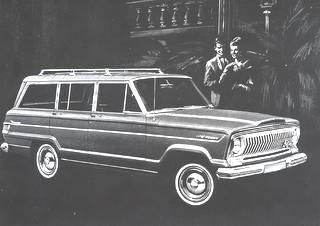 1965 Wagoneer



Was the Jeep Wagoneer the first SUV?
Well...first let's try to define what a SUV or Sport Utility Vehicle really is.



According to Dictionary.com, a Sport Utility Vehicle (SUV) is "a rugged vehicle with a truck-like chassis and 4-wheel drive, designed for occasional off-road use".
The American Heritage Dictionary Defines SUV as "a 4-wheel drive vehicle with a roomy body, designed for off-road travel".
However, today the term SUV has become a synonym for a particular look and style more than just function. The term loosely embraces most any vehicle which has a roomy interior with flexibility to carry more passengers and/or cargo, yet have the ruggedness, or at least the appearance of a truck.
This would not include vans, station wagons or hatchback cars...although some have also been referred to as SUV's.
The SUV, as defined today may or may not have 4-wheel/all-wheel drive, but would have some "utilitarian" capabilities beyond just everyday transportation such as camping trips, cargo hauling and/or mild off-roading.
Going back to the original definitions you may notice the consistent reference to "4-wheel drive". In the purist sense this is what truly identifies a Sport Utility Vehicle.
With all that said...the Jeep Wagoneer with 4-wheel drive fits the old definition of a SUV to a tee. However, even the Wagoneer came in a 2-wheel drive version.
Okay, this is starting to even confuse me!
Let's move on.
The Wagoneer was designed to cater to a variety of consumers including families, sportsmen, contractors, businesses and deliverers...and...any combination of these.


How Does the Wagoneer
Compare to Other Used Jeeps?
Find Out for Yourself!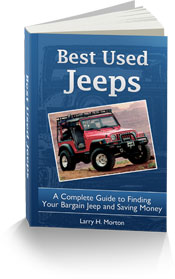 The Jeep Wagoneer debuted in 1963 when Kaiser-Willys introduced the 110 inch wheelbased "station wagons" which were longer than any previously built Jeep wagons...effectively increasing their utility. The new Jeep pickup truck line was introduced and maintained on the Wagoneer platform...see more here! They were initially available in two-door and four-door versions as well as 2 or 4-wheel drive. A Panel Delivery model was also available.
The first Series of Wagoneers from Kaiser Jeep were available with optional automatic transmissions which was a first for a vehicle of its kind. An Independent Front Suspension (IFS) was available for a short time, as was an Overhead Cam 6-cylinder engine.
The 2-door models were expected to be the big sellers but were overshadowed by the much greater 4-door model sales figures.

By 1969 the Panel Delivery and the 2-door Waqoneers were cut from the Jeep lineup due to poor sales.
The early Kaiser Jeep Wagoneers were plagued with engine and mechanical bugs which apparently affected public opinion regarding poor reliability.
However, when Kaiser Jeep sold "Jeep" to the American Motors Corporation (AMC) in 1970 many things about the Wagoneer would change for the better.
First of all, AMC began installing their own motors from the reliable straight 6-cylinder to several more powerful V-8's. Then they began to add more luxurious appointments with lots of interior and exterior aesthetics to really spruce things up.
The 2-door versions also returned under AMC ownership, now called Cherokees (base), from 1974 to 1983 with the sporty name Cherokee Chief added to some beginning in 1976.
Not to be confused with the later downsized Cherokee XJ (1984-2001) and definitely not the typical style of the family Wagoneer, these Cherokees were full sized Jeeps (FSJ) with sleeker lines and a tougher look.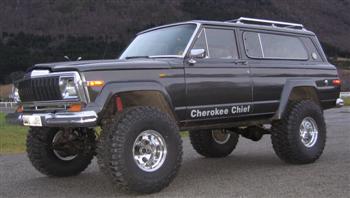 1980 AMC Modified (FSJ) Cherokee Chief 2-door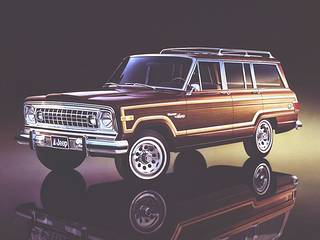 1978 Wagoneer Limited
During its tenure with AMC the Wagoneer remained a good "seller" even though the company was having other financial problems staying afloat with its automobile line.
A Jeep Grand Wagoneer designation was used to distinguish the full sized SJ (Senior Jeep as the Wagoneers were known) from the new downsized version using the "Wagoneer" name.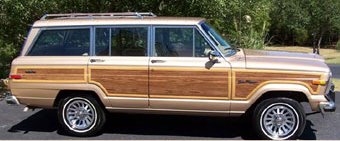 1989 Grand Wagoneer 4x4
When AMC along with its Jeep Division was purchased by Chrysler in 1987 the Grand Wagoneers continued to be produced until they were dropped in 1991 primarily due to corporate pressures from government regulations on emissions and gas mileage ratings.
Note: Chrysler attached the "Wagoneer" name to specific up-scaled versions of the downsized Cherokee XJ from 1984 through 1990...even while the full-sized Grand Wagoneer SJs were still being produced.
Compare the Jeep Wagoneer with the smaller Cherokee XJ by clicking here!

The Wagoneers had a relatively strong following then...and still do today with a number of folks buying and renovating the old wagons for personal use.
So...was the Jeep Wagoneer the first SUV?
Well...technically the Chevrolet Suburban is the oldest "SUV" nameplate in American automotive history...also designed with available 4-wheel drive in 1957. I suppose that by definition the Suburban predates the Wagoneer in the SUV department...but, even so, in my humble opinion there were never Sport Ute's quite like the 4x4 Wagoneers.
I guess I'm just a traditionalist at heart...and maybe a little biased.





See Wagoneer Videos of these great muscle Jeeps in action!

4x4 Truck Page!

Jeep Cherokee Page!

Jeep Grand Cherokee Page!

Jeepster Page!

Willys Station Wagon Page!

Cheap Jeeps: How and Where to Find Them!

Jeep Models: A Chronological History Page!



Custom Search
Doing a site search is the easiest way to find specific info on my site

(Return to Top of This Page...Jeep Wagoneer)