Jeep Cherokee: A Winner!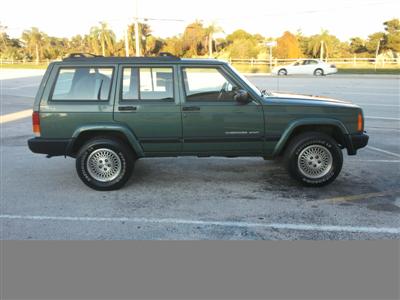 ***Give us a review of your
Jeep Cherokee or Grand Cherokee***




Question: Why was the Jeep Cherokee a winner for first the American Motors Corporation (AMC) and then the Chrysler Corporation?
Answer: It had a simple style with a touch of elegance, and was quite tame with a lot of Jeep toughness built in! These were the best combinations, in my opinion, for a true Sport Utility Vehicle (SUV) with the option of that added 4x4 punch.


1975 AMC Cherokee Jeep


The Cherokee name was first attached to Jeep's in 1974 when AMC introduced a sportier 2-door version of the Wagoneer. Aimed at the younger buyer the early (big) Cherokees were a bit less expensive than the Wagoneers. They were produced until 1983.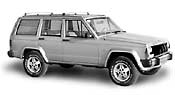 Then in 1984 AMC unveiled the new downsized Cherokee XJ. Engines offered for the new Cherokees included the updated 2.5 Four Cylinder; the GM V-6 (not highly regarded by most); and from 1985 to 1987 an 85-horsepower Renault Diesel engine was also available. The durable 4.0 liter did not debut until 1987 throughout the Jeep line-up.
NOTE: The Jeep Comanche pickup truck was introduced in 1986 sharing the Cherokee platform and many parts/accessories. Click here to see My Comanche and more info!

The Jeep Cherokee XJ was available in 2-wheel drive and 4-wheel drive. It came in 4-door and 2-door (sport) models. The 2-door sport model was predicted to outsell the 4-door models, however that was not the case. The 4-door model filled an almost missing niche for the old "station-wagon" utility functions and set the stage for the SUV craze.


"I Thought I Knew a Lot About Jeeps
Until I Read Best Used Jeeps"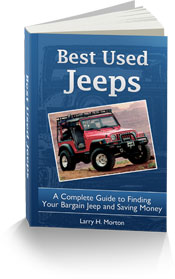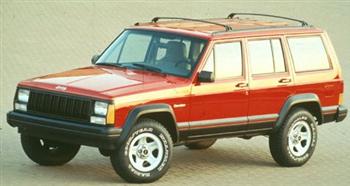 1996 Jeep Cherokee XJ



Can the Cherokee XJ make a Respectable Off Road Machine?...See Story and Videos Here!




Nice Aftermarket Off Road Ready '89 XJ


***Give us a review of your
Jeep Cherokee or Grand Cherokee***
The XJ Cherokee's basic body style continued with few relative changes through 2001, and was then replaced by the Jeep Liberty for 2002. By that time the simple Cherokee name alone was being carried on by its younger brother...the "Grand Cherokee".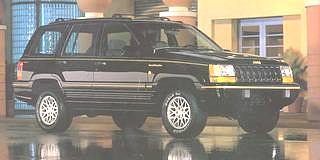 1994 Grand Cherokee




The upscaled Grand Cherokee was introduced by Chrysler in 1993. The Jeep Grand Cherokee ZJ series was built from 1993 through 1998, followed by the Grand Cherokee WJ from 1999 through 2004. The Grand Cherokee WK was introduced in 2005.


Click here to see more on the Jeep Grand Cherokee!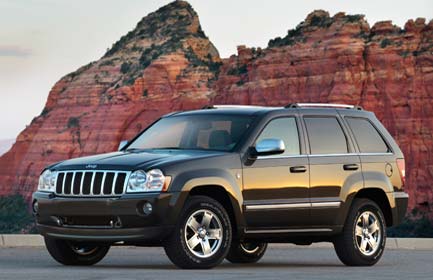 2006 Grand Cherokee
All in all Chrysler/Jeep has had a successful run with the Cherokee which continues until today. Prices, however have gone through the roof making new (or newer) car purchases impossible for many, especially the average wage earner.
Older used Cherokee XJ's are a good and relatively inexpensive investment for most, especially if you want to have a tough SUV with street civility and... I think... pretty good classic looks.


---
2014 Jeep Cherokee
Update: Although the Cherokee XJ referred to in the article above ceased production after the 2001 model year, a newly badged Jeep Cherokee was introduced in 2014.
This new model bears no resemblance inside or out to the original Cherokee XJ. Learn more about this new model by clicking on the photo above.
---
Classic XJ Ad (31 secs.)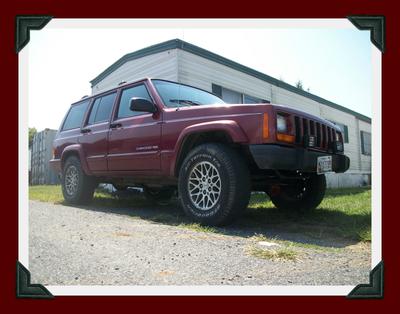 Mike sent in his 1998 Cherokee XJ called Big Red..click photo for more info



---
Tell Us About Your Jeep Cherokee or Jeep Grand Cherokee
Share your Jeep Cherokee or Jeep Grand Cherokee opinions.

1) Describe your Jeep (i.e. engine, transmission, 4 or 2-wheel drive, etc.)
2) How do you use your Jeep? (i.e. family hauler, commuter, weekend warrior, or all-out off road rig)
3) Describe upgrades if any such as tires, wheels, lift kits, custom work, engine modifications etc.
4) Would you recommend the Cherokee Jeeps, old or new, to others?
5) A picture is worth a thousand words (original..right?) so throw in a photo (up to 4 accepted) of your Cherokee or Grand Cherokee.

Thanks




What Others Have Said
Click below to see contributions from other visitors to this page...

---
Cherokee XJ Off Road Page With Videos!

Jeep Comanche Pickup Page!

Grand Cherokee Page!

Cheap Jeeps: How and Where to Find Them!

The XJ Cherokee was Replaced by the KJ Liberty in 2002...but has the Liberty Been Able to Fill Such Big Shoes (or Tires)?...Find out...Click Here!

Are Used Cherokee XJ's and Grand Cherokees Plentiful and Cheap? Click to find out!

Wrangler vs Cherokee XJ...Which is the Best?



Custom Search
Doing a site search is the easiest way to find specific info on my site

Home|About|Site Map|Contact Me|What's New?|Disclaimer
Hi, this is Larry..the author of this website. I know you hear a lot about how to build an online business...but nothing compares to what you will see when you click the box below. Proven simply the best!