How To Buy A Used Jeep: Or Most Any Used Car!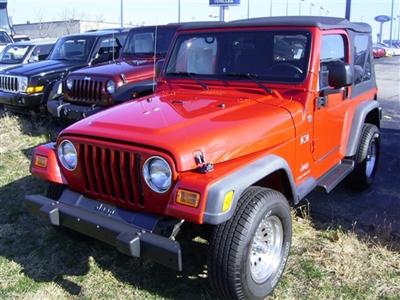 Buying a used Jeep may be a bit different than buying just any used car.
Why?...you ask?



Well, for one thing most Jeep models are capable of much abuse and rugged use...and...many Jeep owners are quite willing to treat their Jeeps just as they were intended.
The condition of a pre-owned Jeep is probably the most critical factor to analyze before laying down any cash.
So buying a used Jeep may require you to do more search and research to find a good rig that meets your particular needs at the right price...and in the best possible condition.
Here's a familiar scenario to illustrate what often happens:
You are interested in finding a nice used Jeep Wrangler roughly 8 to 10 years old to use for camping trips, ski trips, desert exploring or...you name it.
You are driving down the street one day and there in the local grocery store parking lot sits a great looking red 1998 TJ Wrangler...with a FOR SALE sign no less.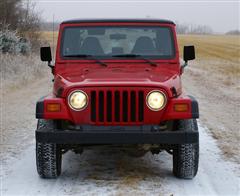 (The Wrangler TJ can make an excellent used Jeep.)
You begin to salivate like Pavlov's dogs because you have always wanted a cool Jeep, but couldn't afford a new one.
Here's your chance!
You do a quick once over and then call the number on the sign.
The 20-something owner shows up and tells you that this beauty was only driven to school and church, and maybe has been off the road a couple of times.
You take a closer look and notice maybe a few minor dings and scratches, but hey!...you can't expect perfection in a used Jeep...right?
You take a test drive and although there are a few "funny" sounds coming from somewhere..IT'S PERFECT?
You tell yourself this Jeep is what you've always wanted. You've got the fever!
The 20-something owner tells you he needs the cash to finish his college education, and even though you think the price is a bit higher than you feel comfortable with...you justify paying the asking price to help this young man pursue his higher education.
Okay, now you have the Jeep of your dreams...right?
At first everything seems fine until you notice the Jeep isn't tracking well (going smoothly in a straight line).
You finally take it to your trusted mechanic to take a look.
To your horror your mechanic begins pointing out one flaw after another...frame out of alignment...cracked transfer case...water in the crankcase oil...and rust spots covered by the new $99.00 paint job.
Okay, maybe the kid skipped church a few Sundays to go off roading. What now!
You now have a bonafide headache!
How to Easily Find
Your Dream Used Jeep!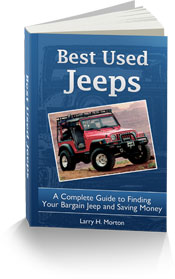 So...what's the point of this little exercise?
When you decide to buy a used Jeep or any used car for that matter:
Do your homework
Search...Research...then repeat
Narrow your search to several possibilities
If you have little or no mechanical knowledge...take a mechanic or knowledgeable friend along
Inspect the used Jeep thoroughly for signs of abuse or misuse such as new paint or significant touch-ups, rust, musty interior smells, unusual engine noises, dirty oil, grinding gears, poor steering or tracking and signs of undercarriage scrapes or dents. (This is where your mechanic comes in handy)
Don't salivate...this will distort your thinking...not to mention get your chin all wet
If you're unsure about anything don't hesitate to walk away.

Larry's words of wisdom: Never be in a hurry to part with your hard earned cash.

Don't put any cash down to "hold" the vehicle while you check your finances unless you trust the dealer/owner implicitly, or you're absolutely sure you can do the deal
Don't let looks fool you. Many used cars and especially used Jeeps look good at first glance.

More of Larry's words of wisdom: You can't judge a book by its cover! Now isn't that original?

And finally...know what you are getting into...most Jeeps are unique special purpose vehicles with distinct characteristics unlike many other familiar vehicles
The same applies to the other Jeep models especially those with 4-wheel drive, although the "universal" Wrangler and CJ models are more likely to be well used and possibly abused in the dirt.


Other Available 4x4 Jeeps...Grand Cherokee..Cherokee XJ ..Commander..Liberty..Patriot..and Compass


Also it bears noting here that some Jeeps often become more valuable as they age, especially the Wrangler, CJ's, and of course the Willys Military models. Therefore, expect a higher asking price for the more popular or collectible models.
Again, the condition of a used Jeep is critical unless you are a rebuilder/restorer...and the initial purchase price is also equitable.

(Fix your own stuff? Then find out how to find bargains on Cheap Jeeps!)

So...get out there and start shopping. This can be fun especially if your not in any hurry to buy.
The more you learn about pre-owned Jeeps and the more you test drive them...the better you will be at making that final decision.
And then...maybe one day (if not already).. you may join the proud ranks of not only Jeep Lovers...but Jeep Owners as well!
Jeep safely!




Old Jeep or Newer Jeep? Which way should you go?

So now you've purchased your dream Jeep...should you leave it stock or not?

Jeep Wrangler Page!

Jeep CJ Page!

Jeep Lifts Page!

Jeep Tires Page!

Jeep Wheels Page!

Jeep Roll Cage Page!

Jeep Safety Page!

Driving Safety Tips for all drivers!

How To Save Gas Page!

Cheap Jeeps! How and Where To Find

Get Tips on How to Sell your Jeep Wrangler

Can You Find Bargains on Older Cherokee XJ's and Grand Cherokees in Today's Used Vehicle Market? Click to Find Out!





Custom Search
Doing a site search is the easiest way to find specific info on my site