Jeeps, American Icons!
#1 Website in the World for Jeeps (some older and some newer) and Those Who Love Them...Everywhere!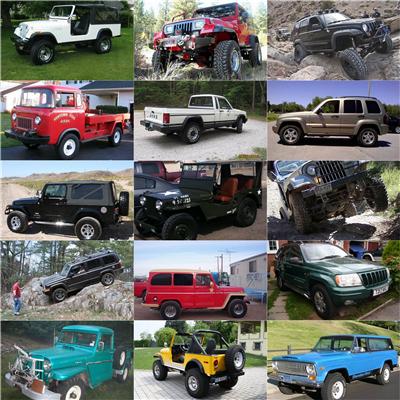 Our Readers Like to Show Off Theirs!
"You are doing an amazing thing with this site. You have info that is really helpful as well as giving the (everyday) person a voice. Thanks for everything." (Jonathan)

"Your site looks fantastic and it 'sounds' great - you come across as enthusiastic and knowledgeable and I really wanted to jump in one of those rigs in the home page photo. Well done!!" (T.M.)

"Since communicating with you, checking out your website, and visiting a few other sites, I have a renewed enthusiasm for these American Icons...(yours) is really a one of a kind site." (Ron)

"I have recently stumbled across your website while researching to buy a 1972 CJ6. I found all the information I needed on your website to make an informed decision to buy. I even told my wife and sister about the site. They liked the girl section of course. Thank you for putting together such a great website." (Gene)
Jeeps...What the heck are they? Where did they come from? What do you do with them? Are you thinking about buying your first one? Already own one...or two..? Are they safe? Can they be contagious? Want to unload one?
Well, just stick around and I will do my very best to guide you through everything you need to know about living with this one of a kind, totally American icon known all over the world.
We will take a look at the new models, however this guide will focus on the old(er)... and...the new. From the original Bantam, Ford and Willys-Overland military contract battles, through the Willys, Kaiser, American Motors, Chrysler, Daimler/Chrysler to Chrysler LLC/Group/Fiat (and any other future owners), I will give you reviews from experts and users/owners of various models (including a few of my own).
This guide will also focus on increasing your understanding of the basic history, styles and various models...from the early Willys to the Wranglers...4x4 vs. 2-wheel drive...and off road wild to pavement mild.
The Jeep "mystique" is very powerful for some of us...well, I can only speak for myself...but you just get a sense that something is different when you own one.
Sometimes this mystique attracts people who "absolutely must have one" and then later find out that their dream vehicle, or at least a certain model, may not be right for them. This guide will explore what to expect from specific models and what to look for before you take the plunge.
Jeeps, like any other mechanical beast require maintenance and upkeep. One of the great things about them is their inherent built-in ruggedness and durability. However, most of us owners won't leave well enough alone and can't help but want to add new and better parts, equipment and/or accessories.
Okay, then this guide will also look at accessories, gear, parts, and how to get what we may want and need for our pride and joy.
This guide is not a technical manual and will not necessarily focus on why the thing-a-ma-jig! quit working on the whatcha-ma-call-it!...although some non-professional "shade tree" mechanical tips will be provided. Take a look at the Jeep Q & A page for friendly answers to some common problems.
The guide is not just for the guys. You ladies are more than welcome to participate. So jump right in anytime.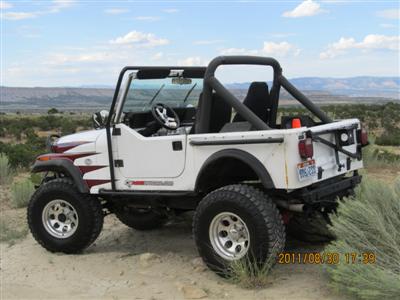 Kristin's Cool '85 CJ7...Click Photo for More Info!
I have also added a Contact Me! page for your Comments. I hope you will feel free to tell me what you like or don't like about anything on this site, so that I can make this a helpful and entertaining place to visit any time.
This guide is frequently being updated and added to, so please Bookmark it; add my RSS/Blog to your site; and/or, subscribe to my Free Newsletter and come back often.
And finally, this site is dedicated to you the "Jeep Lover"...so if you currently own one you will find numerous easy ways to get your ride showcased on this website starting with Your Jeep Page.
So...Buckle Up and get ready for a fun ride down the road at 4-The-Love-Of-Jeeps.com


Get My Free "Jeep Experience Newsletter"..Subscribe Here!
Get This Ebook Now
And Save Money!

Custom Search
Jeeps-and-Jesus is a dedication of this Jeep website to Jesus who without Him would not be possible
This Jeep Blog will keep you up to date with all the happenings and changes at the 4-the-love-of-jeeps.com Website. Subscribe here.
These Jeep Photos were submitted by Jeep lovers from around the globe. Check out how you can send us your photos.
Create your Jeep page to share with friends!
This unique car books guide features discounted Jeep books, 4x4 books, domestic and foreign 4x4 truck books and repair manuals.
Finding Jeep parts and accessories is relatively easy. Finding the best deals for your rig may not be.
Which Jeep 4x4 is the best ever? Over the past 65+ years which 5 Jeeps merit the all time best rating? Stick around and I'll give you my answer.
The Willys Jeep began life during a period of world turmoil. How did these military Jeeps survive?
Find out why the little Jeep CJ and it's successors became every off-roader's dream or necessity!
Does the Jeep Wrangler stack up to the rugged versatility of the long-lived Jeep CJ?
Could the Jeep Rubicon actually be the best Jeep ever built when compared to other Wranglers...and even the venerable old Jeep CJ's?
With the Jeep Cherokee , AMC and then Chrysler hit a homerun delivering what the customer wanted.
The successful Jeep Grand Cherokee has become more luxurious and a bit less rugged with time.
Why has the Jeep Liberty made such a big splash with the ladies? Find out here.
The Jeep Commander differs in what ways with the Jeep Grand Cherokee?
The Jeep 4x4 truck has a mixed and varied history from the Willys era into today's Concept truck models.
The Jeep Wagoneer could have been the first SUV due to it's multi-purpose design and capabilities. What do you think?
The Willys Jeepster, Kaiser Commando and the AMC Commando were various attempts to compete in the automotive arena with varied success. Were they ahead of their time?
With short wheel bases and high clearances,are the small Jeeps safe on and off the road?
Does the Jeep or Hummer win the war of the off road heavy hitters? And can the two immensely popular 4x4's be compared equally?
A basic guide for what you need to know to buy a used Jeep or most any used car for that matter. Save money and prevent headaches!
A simple guide on how to buy a car with practical suggestions on what to look for in choosing your new car or new jeep.
The Jeep Gladiator concept pickup has been a topic of discussion since it's CONCEPT-ion in 2005. So where is it now?
Is a Jeep girl any less feminine because she loves Jeeps and can stay up with the boys?
How to go Jeeping in the backcountry and have you and your Jeep come back out in the same condition as when you went in!
I support the troops who are allowing me to remain free and to protect that freedom for our children and grandchildren, as well as for future generations.
Funny lists seem to be everywhere.
Select amateur and pro Jeep videos of the best and worst Jeep performance and style in various on and off road conditions.
What Jeep Stuff do you have lying around? Do you love Jeeps enough to collect all manner of things related to Jeeps? Well, I know someone who does so stick around.
What the heck is a Mahindra Jeep? Thought there was only one true Jeep in the world? Think again.
This Jeep Forum Guide will easily direct you to the most sought after and informative Forum sites dedicated to Jeeps of all kinds.
Up to the minute Jeep news feeds of stories, reviews and information relating only to the iconic Jeep.
I receive Jeep questions frequently and always try to give honest, helpful answers. I have selected some of the best Jeep Q and A's posted to 4 The Love Of Jeeps.com
Get the latest updates and news regarding the Jeep Experience with my free Jeep newsletter!
Do we really love Jeeps, or is it just infatuation? Loving our Jeeps is crazy, right?
This is the hard part! I don't like talking about me, myself and I, but I guess you may want to know who's behind all this madness.
Contact me with your comments, questions, suggestions, and/or complaints.
Site map reference page.
This advertisers page will provide ad options, ad packages, prices and conditions of acceptance.
This Vendor's Page is for all vendors looking for an inexpensive and effective way to drive traffic to their sales pages.