I Love Jeeps: Am I Crazy or What?

Do you love Jeeps like I do?
Does your head turn when a beat up old CJ5 rolls by on tires and wheels worth more than the entire Jeep itself? Do you drool when you pass (very slowly to get a good long look)...a new 4-door Unlimited with all the factory goodies...or, a sexy looking new Grand Cherokee with all the trimmings?
If you do, then I can now safely say...THANK GOODNESS I'M NOT THE ONLY CRAZY PERSON AROUND TO LOVE JEEPS!
How It All Began!
I became fascinated with trucks, off-roading and 4-wheel drive some time ago. My first 4x4 was a 1974 International Scout with a high range only transfer case. Not too bad in most mild off-road situations, but would easily bog down in the mucky stuff and on steep climbs. (See below after its trip to the Texas Big Bend.)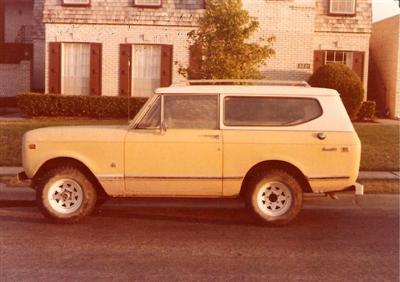 My next 4-wheeler was a 1976 Chevy K5 Blazer which was kind of fun to drive except it was just too big and gulped gas. It saw very little off-road action. (Sorry about the quality , but this is the only picture I could find of the Blazer...and, no that's not me sitting on the hood!)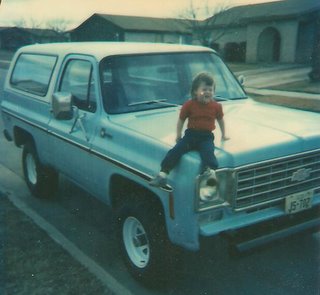 The third vehicle was a true single purpose off-roader, and to this day I regret selling it. This was my 1953 M38A1 Jeep with a Buick Dauntless 225 V6, updated tires/wheels, paint, and roll-bar. Everything else was pretty much stock original. Notice the welded on tow bar and heavy duty winch on the front.
This Jeep was awful on the pavement, but I couldn't have asked for more off-road. This M38A1 set the stage for why I love Jeeps so much today.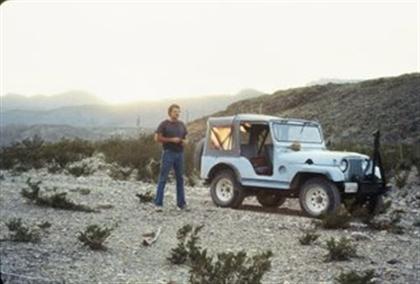 (If you love Jeeps like these old Military Willys Jeeps get a brief history here.)

Then I found a deal on a full-sized 1983 Ford Bronco with part-time four-wheel drive, 4 speed manual shift, and the big straight six engine. This truck saw some pretty good action off-road as well as on-pavement.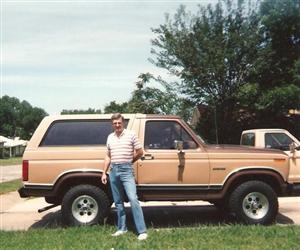 One of my current Jeeps, and long time pride and joy, is a 1987 Jeep Comanche MJ Pickup truck in completely original condition. It's a 4x4 (of course) with the 4.0L engine (which was first introduced in 1987 to the Jeep line-up). This Comanche has the 5-speed manual transmission and the long bed/wheelbase.
This truck is used mostly as a "worker" and bad weather driving substitute...but may see some desert off roading in the near future. I'm still debating on whether to leave it stock or do some upgrades like a lift and bigger tires, etc. (Read a little history on the Jeep Comanche Pickup here!)



My Comanche with Blacked-out Wheels


My latest addition is a 1995 Wrangler YJ with the 4.0L straight six, hard-top with full metal doors, 5-speed transmission, A/C, and as you can see in the photos below...it's red with a black top.
Although the YJ is running well I am steadily working on fixing up some neglected items both on the interior and exterior.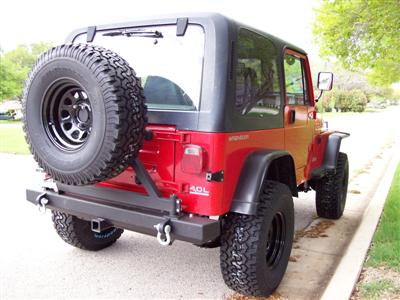 Okay, now you're probably wondering with those other brands of 4x4's "why is he so enthralled with just Jeeps?"
Well, since you asked, none of the other vehicles I have owned or driven even came close to the off-road performance and capability of the Jeeps. Many were as good if not better on-pavement, but in rugged unstable road conditions nothing compared with the 4x4 Jeeps in all classes.
So that may explain why I (we?) love Jeeps, but wouldn't it seem more appropriate to just simply "like" Jeeps and let it go at that?
The slogan "It's a Jeep thing...you wouldn't understand" really states it quite clearly (yeah!...clear as mud). Then how about this...It goes back to what excites us and makes us feel more alive...the passion!
To better understand this, can you explain why anyone loves football, soccer, hunting, fishing, crocheting, cooking, gardening, wrestling, poker, painting...and so on? Answer: "It's a (insert your own passion here) Thing"...make any sense now?
Being out in the wilderness or just tooling around the back roads or State parks gives a feeling of what freedom is all about, especially in a durable vehicle capable of taking you to places you might never have been able to see otherwise.
Yes, I do love Jeeps and I would guess that I am not alone by a long shot.
Crazy?


Guilty as charged!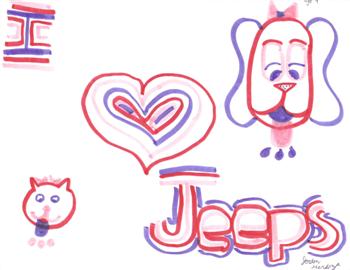 Even my Granddaughter is getting into the act! (Original Drawing by Jordan 2008)

I'm So CRAZY About Jeeps...
I Wrote A Book About Them!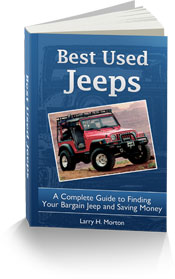 Military/Army Jeep Page!

Jeep Comanche Pickup Page!

Big Bend National Park: Desert Jeep Lover's Paradise!

Cheap Jeeps Page!





(Return to Top of This Page..Love Jeeps!)
Home|About|Site Map|Contact Me|What's New?|Disclaimer
Hi, this is Larry..the author of this website. I know you hear a lot about how to build an online business...but nothing compares to what you will see when you click the box below. Proven simply the best!