1955 Jeep...help !
by K&R Cattle Company = Kenn & Robbin
('San Marcos'...Fentress, TX.)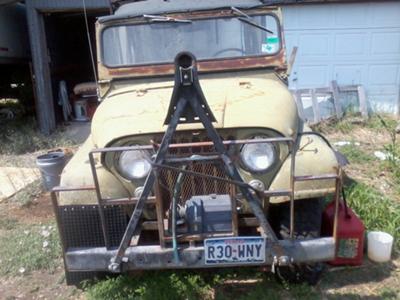 We are New to the Old Jeep Scene! We came across this cool ole Jeep at a really good deal...free sort of!


I bought an old '85 Ford 4x4 for $400.00 and I sold it a year later after sinking only $300.00 into it...for $1000.00, plus the Ole Soldier threw in this Old Jeep.....
Now we would like to fix it up and put her on the road, the trails and the back pasture! We will kindly accept all ideas hints and helps.
I am waiting for my distributor to arrive. We had it cranked up and running on blocks. From what the ole soldier told us it will not go over 40mph...(that has to change)
The distributor is being changed out to electronic. I have a current issue with the fuel tank under the seat. Like I said....We are newbies but willing to learn with our friends help!
So...Hello Friends...We are in San Marcos TX.
Larry's Comment: Welcome to the crazy world of Jeeps! Honestly...you will probably either love the experience or hate it...or both.

Yes, there is usually no "in between" when it comes to Jeeps.

My initial advice is to get your '55 CJ5 running and then evaluate what it may, or may not need.

These old Jeeps were initially geared very low (high numerically) to "tractor" over all kinds of rough terrain. To get any top-end speed for road or highway use will require changing the axle gearing, the transmission or adding an overdrive unit (if you can find one).

The gas tank under the seat is common, and should pose no problems as long as it is in good condition.

The main thing is to enjoy your classic Jeep and have fun with it.

Anyone else have constructive advice for Kenn and Robbin?