1970 CJ5 Renegade 1
by Mike Goff
(Olympia, Washington,USA)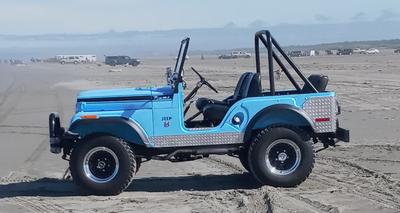 1970 CJ5 Renegade 1, finally at the beach
I bought this Jeep from the original owner back in 1987, weeks after totaling my 73 CJ5. It's been a low priority, no priority project since I got it.


The 225ci Buick motor was blown up, so had it rebuilt. Body and everything off the frame, lots of Christmas and Birthday presents, 33 years worth. It's got the original 225ci odd fire engine, 3 speed T14-rebuilt, warn overdrive-rebuilt, T18 transfer case, 4:88 front and back gears, 2.5 Ranch lift, on 31's.
It also has a new Redline 38/38 carb, and tall HEI distributor, with a stainless radiator. And Finally, a new paint restoration job, after 33 years.
After all these years of fixing it, getting it running good, then taking it out and breaking something else, I couldn't get it painted. My kids, and their friends, who are now grown up and some have kids of their own, finally, get to see me drive it for more than a few weeks.
And all one color, the original, Sierra Blue. It is a real car now since it's finally made it to the beach, after 33 years! I was a 27-year-old kid when I got it, but we are a Jeep family. All the way to my 5-year-old granddaughter, who loves Pop Pop's Jeep.
She's got her own electric Jeep she works on, like Pop Pop. The circle of life is great! Lol. Mike
Editor's Comment
:
Very nice '70 CJ5 Renegade 1, Mike! And you have an awesome Jeep family.