1970 MUTT M151A2
by Mike Finley
(Kansas City)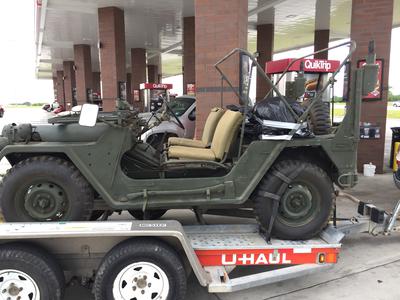 Trip home
My brother Bill and I were looking for another M151A2 to restore (or vision as he would say..LOL) and drove all around the country looking for one.


We found one in Texas so we hopped in his truck on a Saturday in the rain to go look at it. We did not bring a trailer because we were just looking (won't make that mistake again...LOL).
It was not running and did not have a gas tank but we fell in love with it. It was now Sunday and raining and we had to find a place to rent a trailer on a Sunday which was hard to do in a small Texas town.
We finally got a trailer at around 3pm and loaded our new baby up for the trip back to Kansas City and a 9 hour drive in rain and fog.
Somehow we missed a turn in the fog and ended up in Topeka, Kansas...LOL
We finally got back and dropped the Jeep off at about 3am. It was a great trip for two brother's free styling that I will never forget!
Editor's Comment:
Ah...yes a great memory and a great find!