1980 CJ5 V8 Renegade
by Jeff
(Sedona, Arizona)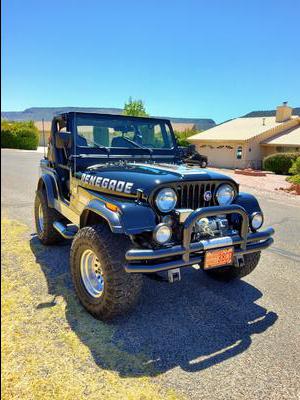 Found this Jeep on the side of the road one day. It had 2 dented front fenders, a bent frame, and surface rust all around. Some kid had really mistreated it but I saw that it was really a solid frame and no deep rust anywhere. And, it was a V8 Renegade model!!!


Well, needless to say, many moons later and more than a few dollars invested I have myself a daily driver that still can turn an eye or two. It has a factory 304 V8, T176, Dana 44 rear with 3.73 gears, LSD both front and back, and 4" lift with 33x12.5 Goodyear tires.
It's been a labor of love to restore it and as in all vintage vehicles, it is never really done.