1981 Jeep Cherokee
by Dave and Tina
(Qld Australia)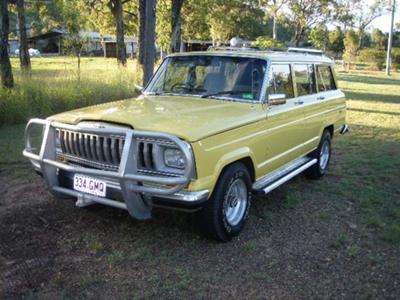 I found this 1981 Cherokee and bought it for the wife to drive. My WJ will do me.

I don't know a lot about it yet (model wise) and the VIN doesn't match any info on the net.

It was made in Brisbane Australia and has:



some wood-grain inside,

a modified 350 Chev with 4-bolt mains,
cammed,

roller rockers,

Holley street dominator manifold,

750 Holley carb,

dual fuel tanks (gas),

Mallory ignition,

727 auto,

Cragar mags,

very clean original interior (all works),

air conditioning, and

power steering.

Larry's Comment: That one is a beauty, Dave and Tina!

It is interesting seeing an Australian version of a 4-door Cherokee Chief (right-hand drive and all).

Many enthusiasts were not aware that AMC (American Motors Corporation) licensed Jeeps to be built in a number of countries outside of the USA...with Australia being one of those countries.

The full-sized Jeep Cherokees were built on the same platforms as the Wagoneer, however with a number of "sporty" options available along side of the more plush Wagoneer accessories.

Great old Jeeps in any country! Now Dave, how about showing off your WJ Grand Cherokee as well?
Join in and write your own page! It's easy to do. How? Simply click here to return to Your Jeep Page!.