1982 CJ7 Project Sunburst Edition
by Jonathan
(Greers Ferry, Arkansas
Matthews Automotive )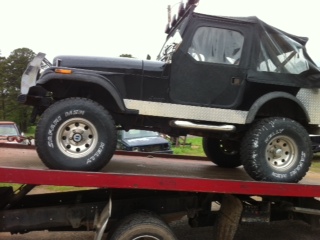 Before Photo!
I recently purchased a 1982 CJ 7 with 4.2 auto.


It's all original but I've been working hard to undo the mess created by years, or people who had no business working on a go cart working on it.
I noticed some odd graphics painted over on the hood, rocker panels, and glove box door. It has 9 stars on the hood that have streamers running up to the center of the hood by the windshield to a sun looking beginning point.
The star on the glove box door was painted over and I removed the paint to show a red outlined star inlaid with silver. In the center of the star is a red "CJ" logo. I am not sure if all 9 stars on the hood looked like the glove box star or not.
On the rocker panels there are 2 red stripes, one about a 1/2 inch the other about 1 1/2 inch, both stripes are solid red. I have run all the numbers and it's original black on black with soft top.
I've discovered the package is an ultra-rare option called a "Sunburst". From what I can find it's one of no more than 10 ever made.
I want to do a lot of customizing so I'm (probably) not going to keep this Jeep. I have way too much respect for special edition packages to ruin it. I have come up with a dealer pic from a parts book that showed the part numbers for the decal kit. To my knowledge this parts book drawing is the only surviving pic of the '82 "Sunburst".
I am trying to figure out what to do with the Jeep. I'm a mechanic but I don't have the time or resources to do a total restoration, and I would really like to know if I have something special that someone might want or if it's just one of those things that's cool but not much more.
I do know the rare "Jamboree" Jeeps are very sought after and bring a large price restored or not. Any other information or help would be very appreciated. I have too much respect for what it is to do what I want to do to a CJ 7.
I want to put a TBI 4.3L with 700r4 in one with A/C and half top cab. I want a completely custom "old Jeep" with all the new things to make it fuel efficient, comfortable, and above all very reliable.