1998 Jeep Wrangler, Turbo, 4.8L Stroked Engine, 38 inch Tires
by Gabriel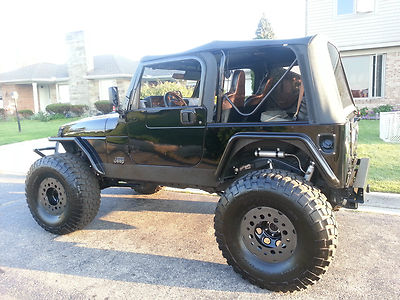 This Jeep is basically new with a freshly rebuilt engine, built transmission, new axles, and more. All forged internals in the motor, and a heavy duty 700r4 transmission. Always starts right up. Drives straight down the road, and rides smooth with the new tires. Properly maintained (oil changed regularly, washed and waxed regularly). The pictures say it all, this is an amazing Jeep.


I drove this Jeep from Saint Louis to Detroit MI at speeds of 70 mph plus!
Bullet proof show Jeep with low miles on all parts! Has 119,000 miles on body, but basically all parts are brand new with extremely low miles. (Some parts still under warranty, such as the turbo)
PARTS:
-4.8 turbocharged stroker engine
-Dana 30 front axle with 30 spline factory ten chrome molly axle shafts
-Dana 44 rear axle with 4.56 gears and Detroit locker
-new soft top with tinted windows
-flawless paint (no scratches, rust or dings) expensive paint job with ghost flames that are only visible in certain light
-PRECISION 76 TURBO
-frozen boost water to air intercooler
-trans cooler with fan
-body armor
-Currie antirock sway bars front and rear
-AEM boost gauges and air to fuel gauge
-bbk throttle body
-Smitty built suspension seats
-upgraded to WJ front dual piston calipers
-new 38 in. BF Goodrich tires
-Genright 19 gallon crawler gas tank
-rolled fenders
-new wheels with beadlocks
-hood vents
-Dynomax exhaust
-led lights
-custom bumpers
-built 700r4 overdrive transmission
-JE forged pistons
-Eagle h beam rods
-Scat crank
-SCT tuner
-winch with controller
-lift kit
-sound system with sound bar and Kenwood subwoofer
-blow off valve
-methanol injection
-5 inch rear axle stretch
-4 inch front axle stretch
-Rhino lined body armor and under fenders
-custom extended driveshafts
-new carpet
14,500 obo
Call Gabriel (956)286-6207
Editor's Comment: Nice looking Jeep, Gabriel.

I don't usually advertise vehicles for sale on this site...but because your Jeep is so unique and well built I thought our readers would at least enjoy seeing it and reading about it.

I am leaving your telephone number published, but when you sell your Jeep please let me know so that I can remove it. Thanks.