'95 Cherokee SE Three Years Later!
by Thomas Bonifacio
(Warwick, RI)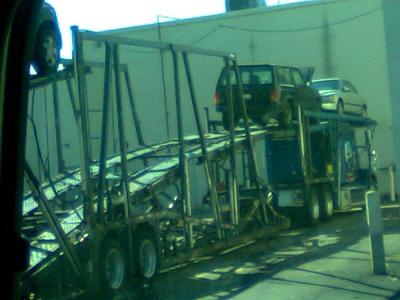 Up there singin' Sweet Home Alabama! :D
My 1995 Jeep Cherokee SE has been in my family over ten years. Well...that all changed one October day in Southern California of 2009 when we had to make an emergency move out of the state.


We had to leave it behind...That Black Box, Stained Rims, Faded Paint, Dents dings and all. A Jeep filled with so many memories you couldn't keep track. We had someone drive it back to their house where it would sit for the next three years. She sat totally lifeless with nobody driving her, just being used as a storage locker.
February 29, 2012 our lives changed forever. We finally made the decision, Bessy baby your comin' home to your family! We set up auto shipping for a '95 Jeep Cherokee, with 242,432 Miles on the Clock. When the Auto Shipper arrived at the driveway in Agoura Hills, CA they threw the cables on her and she was alive again!
She was hauled 3300 Miles across the country to Warwick, Rhode Island. Many people saw her in her worst state. Her paint was more faded than ever, rims were dirtier than ever, but she purred like a kitten.
She got to Rhode Island on March 9, 2012 around 1 O'clock in the afternoon. Three years of listening to "we might have to junk it", "it's too old to bring", "it'll probably break down 5 months after it being here". That '95 Cherokee was perched up right at the top of the car carrier, lookin' at us in the tow truck like, "Didn't think you'd see this sight again did ya?"
I guess I should say no more. Bessy the Jeep is now here in RI with her family once again. I tried to characterize as much as possible to make it funny but keep it real too. This Jeep Cherokee has brought us through so much, and traveled through lots to get here.
Larry's Comment: So many times I wish I'd kept a beloved vehicle...simply because of the memories.

Glad you were able to keep your '95 XJ in the family, Thomas.